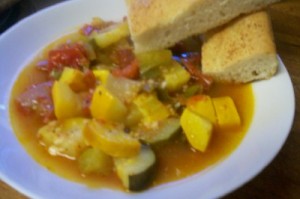 2 red or green bell peppers, cut into 1-inch chunks
1 red onion, coarsely chopped
1 large or 3 small eggplants, cut into 1-inch cubes
2 small zucchini or patty pan squash, cut into 1/4-inch slices
4-6 heirloom tomatoes, coarsely chopped
2 cloves garlic, thinly sliced
3 sprigs of thyme
2 sprigs of rosemary
2 sprigs of tarragon
2 tablespoons extra virgin olive oil
Salt and pepper to taste
Preheat oven to 350ºF. Combine all the ingredients in a 9 x 13 baking dish that has been oiled or sprayed with cooking spray. Toss to combine, leaving the sprigs of herbs whole. Season to taste with salt and pepper. Cover with foil and bake for 40 minutes.
Remove the foil, toss the ratatouille with a spatula and bake for an additional 30 minutes, checking once or twice to see if it needs stirring.
Remove the sprigs of herbs. Check for seasoning, adding additional salt and pepper as necessary.
Serve with warm rolls or rustic bread for mopping up the delicious juices.
Serves 4.