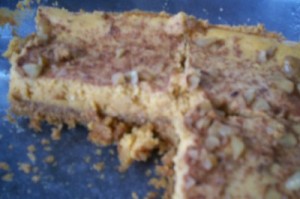 Crust: 3/4 cup walnuts
1 package graham crackers
1/4 cup sugar
1/2 teaspoon ground cinnamon
1/4 teaspoon ground ginger
1/8 teaspoon ground cloves
1/4 cup butter, melted Filling: 2 (8 ounce) packages cream cheese, softened
3/4 cup sugar
2 eggs, lightly beaten
1 cup canned pumpkin
1 teaspoon ground cinnamon,
divided
2 tablespoons chopped walnuts
Directions:
In a food processor, combine the walnuts and crackers.  Pulse until crackers are crushed and nuts are finely chopped.  Pour into a small bowl and add the  sugar and spices; stir in butter. Press onto the bottom of an ungreased 9 x 13 pan.
For filling, in a large bowl, beat cream cheese and sugar until smooth. Add eggs; beat on low speed just until combined. Add pumpkin and 3/4 teaspoon cinnamon; beat on low speed just until combined. Pour into crust and spread evenly.  Sprinkle the top with walnuts and remaining cinnamon.
Bake at 350° for 35-40 minutes or until center is  set. Cool on a wire rack for 1-1/2 hours. Store in the refrigerator.