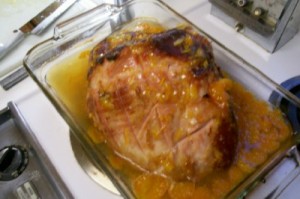 from  Quick Fix Meals by Robin Miller
one 4-pound fully cooked boneless ham 1 cup orange marmalade 2 tablespoons cider vinegar 1/2 teaspoon dry mustard One 11-ounce can mandarin oranges in light syrup
Directions:
Preheat oven to 325ºF.
If the ham has skin, peel it away using a sharp knife, leaving a thin layer of fat on the surface.  Score the fat if there is any with the knife by cutting diagonal lines from one side to the other.  Transfer the ham to a roasting pan.
In a small bowl, whisk together the marmalade, vinegar and dry mustard.  Brush the mixture all over the ham.  Pour mandarin oranges and syrup from the can all over the ham, allowing the oranges to fall to the bottom of the pan. Bake for 1 hour (or 14 minutes per pound), basting every 15 minutes with pan juices.
Remove the ham from the oven and let rest for 10 minutes before slicing to serve.  Serve slices topped with mandarin oranges.