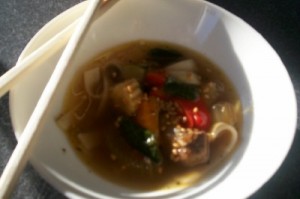 2 teaspoons peanut oil 1/2 large onion, sliced 1 carrot, peeled and bias cut 1 celery stalk, sliced thin on the bias 2 portobello mushroom caps, stems and gills removed, sliced thin 1 small zucchini, diced 1/2 red bell pepper, diced 2-3 stalks bok choy, stems diced, leaves chopped and set aside
1 teaspoon minced fresh ginger 2 cloves garlic, minced 4 cups beef broth 1 cup water 1/4 cup oyster sauce 3 Tablespoons low-sodium soy sauce black pepper 3 scallions, chopped 1 can baby cut corn, drained and cut into bite sized pieces 3 cups leftover roast beef, diced 2 tablespoons apple cider vinegar
4 ounces cooked lo mein noodles sesame seeds and sriracha sauce for garnish (optional)
Directions:
In a soup pot, heat the peanut oil over medium heat.  Add the onion slices, carrots, celery and portobello mushrooms.  Cook for 3-4 minutes.
Add the zucchini, bell pepper and bok choy stems. Cook and stir for another 3 minutes.
Add the ginger and garlic and cook for another 2 minutes.
Add the broth, water, oyster sauce, soy sauce and black pepper.  Cover and bring to a boil.  Reduce heat and simmer for 10 minutes.
Add the bok choy leaves, scallions, baby corn and beef.  Cook until heated through- about 5 more minutes.  Stir in the apple cider vinegar.
Divide the cooked noodles among six bowls.  Ladle soup over the top of the noodles.  Add sriracha and sesame seeds to taste.
Makes about 6 servings.