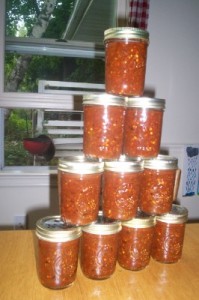 Makes about eight 8-oz jars or 4 pints ( I got 10 half-pints)
12 dried chipotle chili peppers, stems removed 12 dried cascabel chili peppers, stems removed 2 cups hot water 3 pounds Italian plum tomatoes 2 large green bell peppers 2 small onions 1 head garlic, broken into cloves 2 teaspoons granulated sugar 1 teaspoon salt 1 cup white vinegar
Directions:
In a large skillet over medium heat, working in batches, toast chipotle and cascabel chilies on both sides, about 30 seconds per side, until they release their aroma and are pliable.  Transfer to a large glass or stainless steel bowl.  When all chilies have been toasted, add hot water.  Weigh chilies down with a bowl or a weight to ensure they remain submerged, and soak until softened, about 15 minutes.  Working in batches, transfer chilies and soaking liquid to a blender or food processor fitted with a metal blade and puree until smooth.
Meanwhile, under a broiler, roast tomatoes, peppers, onions and garlic, turning to roast all sides, until tomatoes and peppers are blistered, blackened and softened, and onions and garlic are blackened in spots, about 15 minutes.  Set onions and garlic aside until cool.  Place tomatoes and peppers in paper bags.  Secure openings and set aside until cool enough to handle, about 15 minutes.  Peel and chop tomatoes, peppers, onions and garlic.
Prepare canner, jars and lids.
In a large stainless steel saucepan, combine reserved chili puree, roasted vegetables, sugar, salt and vinegar.  Bring to a boil over medium-high heat, stirring constantly.  Reduce heat and boil gently, stirring frequently, until slightly thickened, about 15 minutes.
Ladle hot salsa into hot jars, leaving 1/2 inch headspace.  Remove bubbles and adjust headspace, if necessary, by adding hot salsa.  Wipe rim.  Center lid on jar.  Screw band down until resistance is met, then increase to finger-tip tight.
Place jars in canner, ensuring they are completely submerged.  Bring to a boil and process 8-ounce jars for 15 minutes, and pint jars for 20 minutes.  Remove canner lid.  Wait 5 minutes, then remove jars, cool and store.