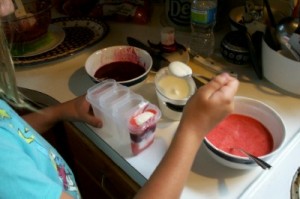 from Everyday Food, July/August 2010
1/2 pound strawberries, hulled and quartered (1 1/2 cups) 1/4 cup sugar, divided 1/2 pound blueberries (1 1/2 cups) 1 1/4 cups low-fat plain yogurt (we used full fat)
Directions:
In a food processor, puree strawberries with 1 tablespoon sugar.  Transfer to a small bowl.
In processor, puree blueberries with 1 tablespoon sugar.
In another small bowl, whisk together yogurt and 2 tablespoons sugar.
Pour the three mixtures, alternating, into ten 3-ounce ice-pop molds, making 3 to 5 layers each.  With a skewer or thin bladed knife, swirl mixtures together in an up-and-down motion.  Insert ice-pop sticks and freeze until solid, 2 1/2 to 3 hours.
Makes 10.
*For tropical pops use 4 kiwis and 1 large mango instead of the berries.