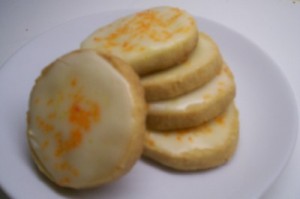 3/4 cup butter, softened 1/2 cup sugar 1/2 teaspoon baking powder 2 tablespoons beaten egg 1/2 teaspoon vanilla 1 teaspoon finely grated orange peel 3 drops orange oil 1 3/4 cups all-purpose flour For glaze: powdered sugar and freshly squeezed orange juice
Directions:
Beat the butter and sugar together with a mixer until light and fluffy.  Beat in the baking powder.  Add the egg, vanilla, orange peel and orange oil and beat until combined.  Slowly beat in some of the flour, and then stir in the rest with a wooden spoon.
Using a sheet of waxed paper, shape the dough into a cylindrical shape about 1 1/2 inches in diameter.  Wrap well with the waxed paper and refrigerate for about 2 hours.
Preheat the oven to 375ºF.   Remove the dough from the fridge and discard the waxed paper.  Using a sharp knife, slice your dough into 1/4-inch slices, turning the cylinder of dough 1/4 turn with each cut.  Place the slices on a baking sheet- the cookies will not spread much, so you can put them fairly close together on the sheet.
Bake for 11 minutes, or until the edges just begin to brown.  Remove to a cookie rack to cool completely.
To make a glaze, combine powdered sugar and a squeeze or two of fresh orange juice.  Stir to desired consistency, adjusting with added powdered sugar as necessary.  Glaze each cookie and let set before storing in an airtight container.
Makes about 35 cookies.