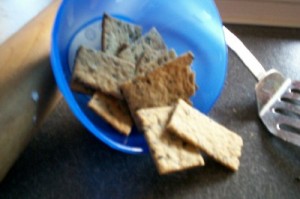 1 cup all-purpose flour 1 cup whole wheat flour 1/4 cup sesame seeds (I used black ones this time) 1/4 cup sugar 1/2 teaspoon salt 4 TBS butter 1/2 cup milk Sea salt
Directions:
Preheat oven to 325ºF.
In a large bowl, combine the flours, sesame seeds, sugar and salt.  Cut in the butter with a pastry blender until the mixture resembles tiny crumbs.  Stir in the milk, adding just enough to form a workable dough.  Knead it just until it comes together.
Divide the dough into three workable pieces.  Roll it out ultra-thin, one piece at a time.  Get it as thin as you can manage, while still being able to move it in pieces.  (1/16th of an inch thick if possible.)  Sprinkle the dough with sea salt and use the rolling pin to press the salt in just a bit.
Cut the dough into 1 x 2 inch rectangles.  Transfer the pieces to baking sheets and bake for 20-25 minutes, or until the just begin to brown.  Remove to a cooling rack to cool completely.
Makes about 8 dozen crackers.