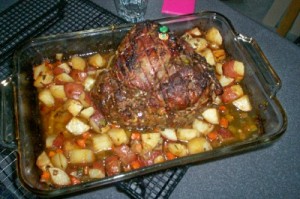 1 4-pound boneless leg of lamb 3-4 cloves garlic, minced 1/2 cup fresh parsley, chopped 1 1/2 teaspoons salt 1/2 teaspoon freshly ground black pepper 1 teaspoon dried herbes de provence
zest of 1 lemon juice of 1 lemon (scant 1/4 cup) 1 teaspoon REAL balsamic vinegar* 1 tablespoon olive oil 1 celery stalk, chopped 1 carrot, chopped 1 onion, half diced, half sliced
Directions:
Combine the garlic through the vinegar in a small mixing bowl.  Mix well to combine.
Smear the mixture all over the leg of lamb, working it into the inside of the leg as well.  If your leg comes wrapped in netting, gently move the netting out of the way to get to the interior of the roll.  Replace the netting before rubbing the outside.  Rub any remaining mixture all over the outside of the lamb.  Let rest for 1 hour at room temperature.
At this point, the lamb can be refrigerated for several hours until needed.
Preheat oven to 425ºF.  Drizzle the lamb with the olive oil.  Combine the celery, carrot and onion and scatter in the pan around the lamb.  Pop in the oven and roast for 30 minutes.
Reduce the temperature to 350ºF and roast for another hour.   After the hour has passed, check you lamb.  If it has a button, if it hasn't popped, it will need more cook time.  If it doesn't have a button, use a thermometer.  You are looking for 155ºF for a medium well roast.  If more cook time is needed, bump up the temperature to 375ºF to give a nice crust to the exterior of the lamb.
Allow the lamb to rest for at least five minutes before slicing.  Serve immediately or, it can also be served at room temperature.
*If you don't have a really good balsamic vinegar, leave it out, rather than use an inferior product.