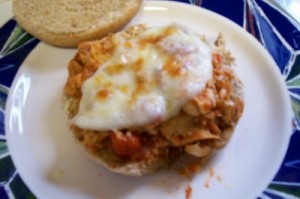 5 or 6 cups leftover cooked chicken, coarsely chopped 2 cups prepared marinara sauce 2 teaspoons olive oil
1 medium onion, chopped 1 red bell pepper, chopped 3 cloves garlic, minced 1 heaping teaspoon dried Italian seasoning Salt and pepper to taste
Burger Buns, Parmesan Cheese and Provolone Cheese for serving
Directions:
Spray a 4-quart crock-pot with cooking spray.  Add the chicken and marinara sauce to the pot.
In a saute pan, add the olive oil and heat over medium heat.  Add the onion and cook for three minutes, or until softened.  Add the bell pepper and cook for another two minutes.  Add the garlic and Italian seasoning and cook for an additional two minutes or until very fragrant.  Season with salt and pepper as desired.
Add the sauteed mixture to the crock-pot and give everything a stir to combine.  Add the lid to the pot and turn it on to the low setting.  Cook for 4 hours on low.
To serve, top each bun with a portion of the mixture and sprinkle each serving with Parmesan, and then add a slice of Provolone as well.  For added flavor, run the sandwiches (open-faced) under the broiler for a minute to brown and toast the Provolone on top.  Serve immediately.
Makes about 8 sandwiches.