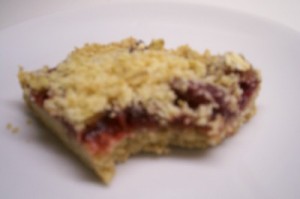 2 cups all-purpose flour 1/2 cup packed brown sugar 3/4 cup chilled butter, cut into pieces 1 cup regular rolled oats 2/3 cup freshly squeezed orange juice 2/3 cup packed brown sugar 2 cups fresh cranberries 1/4 teaspoon ground cinnamon
1/8 teaspoon ground nutmeg
Directions:
Preheat oven to 350ºF.  For crust, combine flour and 1/2 cup brown sugar in a food processor.  Pulse a few times to combine.  Add the butter, and pulse a few more times until fine crumbs form.  Add the oats and pulse yet a few more times to mix it all together.  Reserve 1 cup of this crumb mixture. Press the remaining crumbs in the bottom of a 9x13x2-inch baking pan.  Bake in a preheated oven for 15 minutes or until crust is just lightly browned.
Meanwhile, for filling, combine the orange juice and 2/3 cup brown sugar in a saucepan.  Bring to boiling, and stir in the cranberries.  Return to boiling, reduce heat and simmer, uncovered, for about 10 minutes, or until the mixture is slightly thickened.  Remove from heat and stir in the cinnamon and nutmeg.
Spread the cranberry filling evenly over the baked crust.  Sprinkle the top with the reserved crumb mixture.  Bake for 25-30 minutes, or until the top is lightly browned.  Allow to cool completely before cutting into bars.  Makes 32 bars.