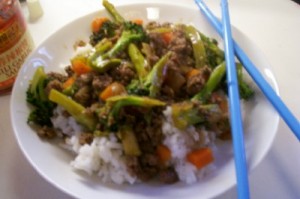 6 Tablespoons hoisin sauce 2 Tablespoons oyster sauce 3/4 cup water 2-3 Tablespoons sunflower oil 1 pound ground beef 1 large onion, minced 2 carrots, diced handful of fine green beans, trimmed and sliced diagonally (I used one head of broccoli) 2 cloves garlic, chopped 1 2-inch piece fresh ginger, peeled and minced (or 1/2 teaspoon dried, ground)
Directions:
Mix together the hoisin sauce, oyster sauce and water in a small bowl.  Set aside.
Heat a wok until hot.  Add the oil, then add the beef and stir-fry it until browned.  Remove from the pan using a slotted spoon and set aside.
Add more oil to the wok if necessary (I did not need more oil), then toss in the onion and stir-fry for 4 minutes.  Add the carrots and the beans (or broccoli) and stir fry for 2 minutes.  (I gave it closer to 4 or 5 because of the broccoli), then add the garlic and ginger and stir-fry for 1 minute longer.
Pour in the hoisin sauce mixture, stir in the beef, and cook for 3 minutes.  Serve immediately.