From How To Cook Everything Vegetarian by Mark Bittman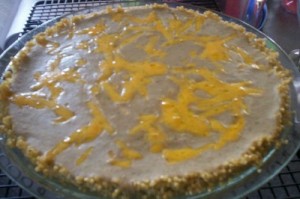 Nearly any bean will produce delicious results in this creamy tart, one that features a cooked-grain crust, but lighter colored beans are definitely more attractive. (Black beans can be a bit scary, but topping the pie with cheese is a simple and tasty solution.) If you start with cooked beans and you have a food processor, the whole process is very quick. A few roasted chiles (even canned are good) mixed into the filling with the bell pepper are nice.
You can use any cooked grain you like for the crust, as long as it will hold together. Short or medium grained rice, quinoa, or bulgur all work very nicely.
Other beans you can use: any red, pink or white beans.
1 Tbsp neutral oil, like grapeseed or corn, plus more for greasing the pan 1/2 cup millet 2 cups cooked or drained pinto beans 1/2 small onion, chopped 1 small red bell pepper, cored, seeded and chopped 2 cloves garlic, chopped 1- 1/2 tsps chopped fresh rosemary or thyme or about 1/2 tsp. dried 3/4 cup cream, stock, bean-cooking liquid or water Freshly ground black pepper 1/2 cup corn kernels (frozen are fine; don't bother to thaw) 3 egg yolks Directions:
1. Preheat the oven to 350. Put the oil in a small pot over medium heat. When hot, add the millet and cook, stirring frequently, until fragrant and golden. Add one cup of water and a good pinch of salt; bring to a boil. Immediately turn the heat down to low so the mixture bubbles gently. Cover and cook until the liquid is absorbed and the millet is tender, 20 to 30 minutes. Set aside.
2. Put the beans, onion, bell pepper, garlic, rosemary, cream or other liquid, a pinch of salt and a good amount of pepper in a blender or food processor; puree until smooth, adding a Tbsp or two more liquid if necessary. Taste and adjust the seasoning, transfer to a bowl, and mix in the corn and egg yolks.
3. Grease a pie or tart pan and press the millet into it to form a crust, then pour the bean mixture into the pan. Put in a larger baking dish (I needed to use a roasting pan!) and put in the oven; add water to the baking dish to come up as far the sides of the pan as practical, then bake until set and slightly jiggly in the middle, about 45-50 minutes, Remove from the oven and cool on a rack for a few minutes. Slice and serve warm or at room temperature.
Cheesy Pinto Bean Tart with Millet Crust – even more body; in step 2, add about 1/2 cup grated or fresh cheese, like Chihuahua, Jack, mozzarella, farmer, queso fresco, ricotta, or cottage cheese, plus more for garnish.
Soufleed Variation – For a lighter tart, beat 3 egg whites with a pinch of salt until they hold soft peaks. Gently fold into the puree and pour into the prepared dish. Bake until risen and browned. Check the interior with a thin skewer; it's done when the skewer is barely moist. Serve immediately.
Mexican Style – Top with cheese for a prettier dish. Use black beans and add 1/4 cup chopped cilantro and a chopped roasted Poblano. Top with crumbled queso fresco or other fresh cheese like farmer's or ricotta before serving.