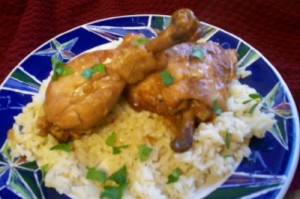 from Not Your Mother's Slow Cooker Family Favorites
2 to 4 tablespoons olive oil 4 pounds chicken legs or bone-in thighs, skin removed, rinsed, patted dry and sprinkled lightly with salt 3/4 cup apricot preserves 1/2 cup orange marmalade 1/4 cup low-sodium soy sauce 1 tablespoon sesame oil 2 garlic cloves, pressed 3 medium sized shallots, finely chopped (I used one medium sized onion instead) 1 teaspoon peeled and grated fresh ginger Salt and pepper to taste
About 2 tablespoons sesame seeds for garnish 1 bunch green onions, chopped, for garnish (I used parsley instead)
Directions:
Coat the inside of the crock with cooking spray.
In a large skillet over medium high heat, warm 2 tablespoons of the olive oil.  Add the chicken in batches (adding more oil as needed) and brown, turning once or twice and transferring the chicken to the crock as it browns.
In a medium-sized bowl, combine the preserves, marmalade, soy sauce, sesame oil, garlic, shallots and ginger with a fork.  (Add a pinch of salt and a few grinds of pepper as well.) Pour the mixture over the chicken.  Cover and cook on high for 2 1/2 to 3 hours, until the chicken is tender and cooked through.
Remove the chicken with tongs from the crock and place on dinner plates or a large platter.  Serve sprinkled with sesame seeds and green onions.