This past weekend was our first dance competition of the season for our veteran dancers.  Both kids did spectacular with their dances, and we all had a wonderful weekend.  Monday was a different story.  We all were tired, crabby, and two of the three of us felt like we were at the beginning stages of some kind of cold bug.  I suppose when you're crammed into a theatre with thousands of people for three days straight, the petri dish effect takes place, and it is possible to bring home more than just your trophies and awards.
Anyway, Monday.  We always skip school the Monday after a competition- I just know better than to try and do anything, it's a free-for-all day for the kids, with the exception of their regularly scheduled dance classes in the evening.  The entire problem with Monday is that I'm tired, and this week I desperately needed to make a grocery run and come up with some dinner ideas.  It sure would have been nice to just pick up a pizza or something, but dance weekends see us eating so poorly that when we come home we need to boost our nutrition for a few days to undo some of the damage we'd done.
One of the blogs I follow on facebook posted a picture yesterday of some tortellini, and that set my wheels turning.  I decided to do a really easy and quick skillet dinner utilizing some frozen tortellini.  It just sounded delicious- even better, I could pair it with a crunchy salad (some much needed vegetables), AND I thought I could get a few handfuls of spinach into the kids bellies if I mixed it with the tortellini.
As I expected, this dish came together so easily.  Here is my cast of characters.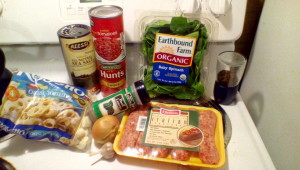 The only thing missing is the red wine that I added spur of the moment.  Skip the red wine if you are averse, but even though I only added a small splash, I thought it really contributed to the depth of the sauce, without adding that wine taste that my kids would really dislike.  You can see that my package of Italian sausage had five links in it- I ended up using only three, and put the remaining two away to be used for pizza another time.  I also opted to use frozen tortellini, which meant that this wasn't really a skillet dinner, as I had to use another pot to cook up my tortellini in.  But the bonus there was that then I had some pasta cooking water to also add to my skillet, and I thought that was a great addition as well.  If you choose to use a refrigerated pasta that doesn't need the boiling in salted water, you'll need to add a cup of liquid to your skillet for the pasta- either water or a stock will work nicely.
The end result was delicious and everyone enjoyed it topped with either Asiago cheese or a dollop of ricotta.  Even better, because I served this with a salad and garlic bread, I had plenty leftover.  The leftovers will become today's Italian Sausage and Tortellini soup by adding 1 quart of home-canned tomatoes and 2 cups of chicken stock.  I may also cook up a handful of small white beans as well.  I do love it when a dinner can be tweaked in the smallest way to produce a whole new meal the next day.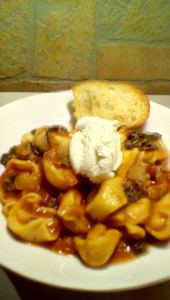 Quick Spinach and Tortellini Skillet Dinner
2 teaspoons olive oil 3 links of Italian sausage, casing removed 1 small to medium onion, sliced 1-3 garlic cloves, minced 2 tablespoons red wine 1 teaspoon dried basil 1 teaspoon sea salt 1/2 teaspoon freshly ground black pepper 1 (5 oz) package baby spinach leaves 1 (15 oz) can petite diced tomatoes 1 (15 oz) can tomato sauce 1/2 cup water used to rinse the tomato sauce can 1 pound frozen cheese tortellini cooked according to package directions, with 1/2 cup of the cooking water reserved. Asiago, Parmesan, Ricotta cheeses for topping
Directions:
In a large skillet over medium heat, add the olive oil and the sausage.  Break up the sausages with a cooking spoon as they cook.   Once the sausage is no longer pink, add the onions to the pan.  Cook for 2 minutes, then add the minced garlic.  Cook and stir for a minute, and then add the dried basil, salt and pepper.  Stir it all around and let the seasonings toast in the pan for just a minute or two, and then add the splash of red wine.  (If omitting the red wine, just use a bit of water or broth.)  Cook for another minute, and then add the whole container of spinach to the pan.
Stir the spinach into the mixure, and keep stirring until it is mostly wilted.  Add the diced tomatoes, tomato sauce, and the bit of water used to rinse out the tomato sauce can.  Stir it all together, turn the heat down to low, and cover the pan.  Cook for about 15 minutes, stirring occasionally.
Meanwhile, prepare the tortellini according to the package directions.  Before you drain the tortellini from the cooking water, take out 1/2 cup of the cooking water and set aside.  Drain the tortellini.
Remove the lid and add the tortellini to your tomato/spinach/sausage mixture, along with the 1/2 cup of cooking water.  Taste for seasoning- adding more salt if necessary.  Stir everything together and serve immediately with cheese to top with.
Makes 4-6 servings, depending on appetites.