For the longest time I stayed away from making green curries at home.  For one, I was worried that green curry meant that it was crazy hot, so the kids wouldn't eat it.  Secondly, it relies on coconut milk a lot, and while I do use coconut milk from time to time, I worried that the flavor would take over the dish, and we are not all huge coconut fans.  But one day last summer I decided to try a really easy Thai Green Curry recipe that I had found and discovered it was so much better than I'd expected.
I do not recall where I got this recipe from, to be honest. What I especially love is how easy it is to put together.  You can use any combination of vegetables that you like, so this time I took advantage of that (and my family's affection for the green curry) to try and sneak in some more of that kale I was trying to use up.
Braising the chicken in the liquid here makes the chicken so velvety and tender.   Normally I would think to brown the chicken first, but here we slide raw chicken right into our heavily flavored broth, and it just works SO well.  One thing that I was shy on this last time I made it was fresh herbs.  My herb plants are not too big yet, so I was sparing when harvesting a few leaves.  As a result, we all agreed that it was "missing something" and it was definitely the burst of a handful of fresh herbs at the table.
Don't be a afraid of the fish sauce in the recipe.  I always keep a bottle in the fridge and find it adds the most spectacular layer of flavor to a lot of Asian dishes.  When you smell fish sauce for the first time, it's like something so awful and funky, and you're afraid to actually use it.  All it takes is a splash or two, and you've taken a stir fry from tasty to delicious.  Combined with the sweetness from the brown sugar, it makes magic in this pot of green curry.
As mentioned, I added two large handfuls of kale to the curry, and no one noticed.  This was a great way to sneak in the nutrients of the kale without serving KALE for dinner, if you know what I mean.  I definitely recommend adding the kale or other green of your choice as a great nutritional boost.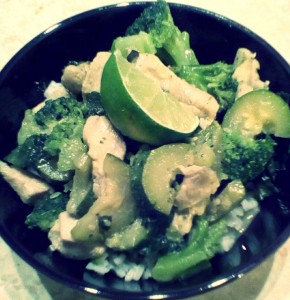 Thai Green Curry
1 tablespoon green curry paste or 1 tablespoon red curry paste
1 (14 ounce) can coconut milk (light works fine)
1/4 cup fresh basil (or 1/8 c. dried)
1 can bamboo shoot, drained
3 tablespoons fish sauce
2 tablespoons brown sugar
1 cup chicken broth or 1 cup chicken stock
1 lb chicken breast, cut into 1/2 inch strips
3 to 4 cups fresh broccoli florets 2 cups kale or other green, coarsely chopped
fresh herbs of choice for garnish- basil and cilantro together are delicious!!  A squirt of lime juice is also nice.
Directions:
In a medium saucepan combine curry paste and coconut milk and heat.
Just before it reaches the boiling point, reduce heat and simmer for 5 minutes.
Add remaining ingredients and simmer for 10-15 minutes.
Serve over freshly cooked rice.