Yesterday Andy asked for a simple baked chicken for dinner.  I was good with that, and I was making a grocery run, so I could pick up whole chicken legs, which I would break down into drumsticks and thighs, and then bake them up.  As I was wandering about the produce department, looking for something good and fresh looking, I came upon the leeks.  It's been a very, very long time since I found leeks that looked good.  These not only looked good, they looked amazing!  They were as fat as baseball bats, and bright and delicious looking.  I bought a pair, not knowing at all what I'd do with them at the time, but golly, I couldn't pass them up!
Fast forward to dinner prep time.  I was thinking about this baked chicken, but my mind kept wandering to the leeks. Should I use them today?  Should I save them for soup night?  I love leeks in soup, but we did have a potato soup fairly recently… So I headed off to the Internets to look for some inspiration.  I found it in MyRecipes.com from Real Simple magazine.  A recipe that was truly simple, it combined drumsticks, thighs, leeks and apples and seasoned them all with rosemary, salt and pepper.  Was it a coincidence that I also had picked up a bag of organic Rose apples yesterday?  I was meant to make this dish!
It couldn't have been easier.  I got out a sheet pan, and as I seperated my drumsticks and thighs, I tossed them onto the pan.  Then I quarted four apples, I ended up using two Braeburn, one Rose, and one Gala, as I thought a blend of apple might be nice.  I took one of my gigantic leeks, removed the dark green part, and then cut it in half lengthwise for some good rinsing.  After the leek was rinsed, and dirt removed, I basically cut them into quarters as well.  Six rosemary sprigs were retrieved from the freezer, and then the whole pile was tossed with oil, salt and pepper.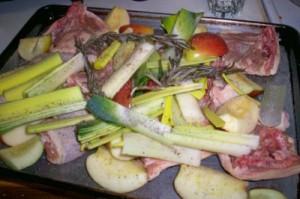 I made sure the chicken was all skin side up, and then slid the pan into a 400ºF oven.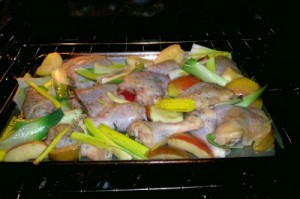 Forty-five minutes later, dinner was ready.  We ate the chicken with potato wedges on the side.  Oh, wow, was it good! And it was so simple!  The chicken picked up amazing flavors from everything it was roasting with, and the leeks and apples were absolutely delicious and buttery, from having been cooked in chicken fat.
I wouldn't change a thing with the ingredients, it was so much more than the sum of its parts.  However, I might make a few changes in assembly for next time.  I'm thinking that the leeks and apples were so good, that next time I might add more of them, and the leeks I'm thinking I would chop more finely and use them more as a bed for everything else.   In that case, I would serve this with egg noodles or rice to soak up that leeky, chickeny goodness.  It was quick, and it was really easy to throw together once I had my chicken in pieces.  This was wonderful… We had leftovers, and I'm trying to decide how best to reinvent them for tonight's dinner, the combination of flavors was THAT delicious.  You should definitely try this one.
Roasted Chicken, Apples and Leeks
8 small chicken thighs and drumsticks (about 2 1/2 pounds)
4 small crisp apples (such as Empire or Braeburn), quartered
2 leeks, halved crosswise and lengthwise
6 small sprigs fresh rosemary
2 tablespoons olive oil
Kosher salt and black pepper
Heat oven to 400° F. On a large rimmed baking sheet (or in a large roasting pan), toss the chicken, apples, leeks, rosemary, oil, 1 teaspoon salt, and 3/4 teaspoon pepper. Turn the chicken skin-side up. Roast until the chicken is cooked through and the apples and leeks are tender, 40 to 45 minutes.