Wow!  Here is a spectacular stir-fry!  The last time I decided I wanted to make a stir-fry, I went to the pantry to dig out some ingredients and was dismayed to find that I was out of most of the Asian sauces that I try to keep on hand.  I had soy sauce, rice wine, and some curry pastes, but no Hoisin, Oyster or Black Bean Sauce, which I frequently use in my stir-fries.  Yesterday I decided it was stir-fry day, and remembering that I was out of a lot of specialty ingredients, decided to seek out a specific recipe so I would pick up a sauce or two to start replenishing my supply.  As I flipped through my Big Book of Wok, it didn't take me long to decide chicken was in order, as I had some fresh boneless, skinless chicken thighs on hand.  When I saw this recipe that called for a bit of cilantro, I knew I wanted to try it.
This one came together very quickly.  I started by cutting six chicken thighs into bite sized pieces and tossing them in the soy sauce, rice wine and cornstarch.   Then I let that marinate for about an hour (even though the recipe indicates 30 minutes) while I got a pot of brown jasmine rice simmering and chopped everything else up.
I followed the recipe almost exactly this time.  My biggest change was to use olive oil instead of the sunflower called for, and I added in a package of frozen (thawed) broccoli with the rest of the chopped ingredients.   I think you can play with adding different vegetables here and still have the basic dish intact.  I'd love to try this base with some kale and mushrooms.
This was seriously restaurant quality.  It tasted like some of the best take-out we've had.  Normally when I make a stir-fry I lean towards the side of making it saucy, so I make extra of the sauce ingredients and this time I didn't.  I also exhibited great restraint by not adding a dash of fish sauce or fermented black beans as I've also been doing lately.  It was perfect just the way it was.  We all enjoyed it immensely.  I think what really made the dish, though was the cilantro at the end.  My handful was very generous, but it was the perfect bit of freshness for the dish.  It also doesn't have the sweetness that a lot of Asian dishes have- just good, solid umami flavor that keeps you going back for just one more bite.
This is now a must make again recipe.  Andy thinks it's right up there with my very best.  Try it, you won't be disappointed.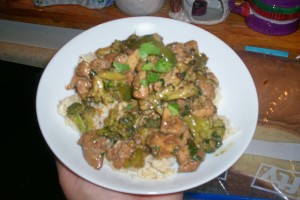 Golden Chicken with Garlic and Cilantro
3 tablespoons Shaoxing wine or medium sherry 3 tablespoons light soy sauce 1 tablespoon cornstarch 1 1/4 pound skinless, boneless chicken breast (or thighs) cut into large bite-sized pieces 3 tablespoons sunflower oil (more as needed) 4 cloves garlic, chopped 2-inch piece fresh ginger, peeled and grated 1 large green bell pepper, sliced 5 scallions, sliced 2/3 cup chicken stock 2 tablespoons oyster sauce salt and freshly ground pepper to taste handful of cilantro leaves, roughly chopped
Directions:
Mix together the wine, soy sauce and cornstarch in a bowl.  Add the pieces of chicken and turn to coat them all over.  Let marinate for 30 minutes, stirring occasionally.  Drain, reserving the marinade.
Heat a wok until hot.  Add the oil, then add half of the chicken and stir-fry it lightly until browned, 3-4 minutes.  Remove the chicken from the wok using a slotted spoon, drain on paper towels and set on one side.  Repeat with the remaining chicken.
Toss the garlic, ginger, green pepper and scallions into the wok and stir-fry for 1 minute.  Stir in the reserved marinade, stock and oyster sauce, then return the chicken to the wok.  Stir-fry until the sauce has reduced and the chicken is cooked through.  Season to taste with salt and pepper, then sprinkle with the chopped cilantro and serve.