Dear Tummy Treasure readers, I've never done this before, but today I'm republishing an older blog post.  I've been working my way through a bushel of peaches, and this salsa is as spectacular this year as it was when we first made it five years ago.  The peaches are amazing right now, so do yourself a favor, get some, and make this salsa.  More peach recipes to come soon…
I was going to save the best for last, because this salsa was the real surprise of the bunch, not to mention the most stunning one to look at visually.  But I decided to share it first because quality peaches at the markets may be dwindling, and you definitely want to make this salsa for yourself or to give as gifts.
As I mentioned the other day, neither my brother or myself have made fruit salsas before.  It didn't really interest either one of us- so don't ask us how it is we ended up making TWO fruit salsas in the same day.  But we're so glad we did.  In the case of this salsa, the peaches take the place of tomatoes- which are also sweet in their own way.  Add some deliciously spicy jalapenos, some tangy vinegar, herbaceous cilantro and a few more things, and those peaches make magic.  This was amazing scarfed up with a few tortilla chips.  We all agreed that this salsa would be AMAZING on fish tacos, but the possibilities with this lightly fruity salsa are numerous.
The Ball Complete Book of Home Preserving recommends that when you make this salsa, measure your vinegar into the pot first, and then dump in your peaches as you chop them, and toss together.  This will prevent the peaches from browning any and turning the salsa an unpleasant color.  We also left the seeds and the ribs in the jalapenos for some heat.   As I'm reading this recipe through again, I'm reminded how quick and easy this was to put together.  Please note that the recipe and processing time is for half-pint jars.  Since it gives no recommended time for processing pints, to do so could be unsafe- and should be avoided.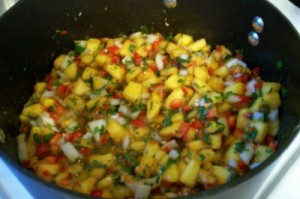 Peach Salsa
from Ball Complete Book of Home Preserving
makes about eight 8-ounce jars
1/2 cup white vinegar 6 cups chopped pitted peeled peaches 1 1/4 cups chopped red onion 4 jalapeno peppers, finely chopped 1 red bell pepper, seeded and chopped 1/2 cup loosely packed finely chopped cilantro 2 TBS liquid honey 1 clove garlic, finely chopped 1 1/2 tsp ground cumin 1/2 tsp cayenne pepper
Directions:
Prepare canner, jars and lids.
In a large stainless steel saucepan, combine the vinegar and peaches.  Add onion, jalapeno peppers, red pepper, cilantro, honey, garlic, cumin and cayenne.   Bring to a boil over medium-high heat, stirring constantly.  Reduce heat and boil gently, stirring frequently, until slightly thickened, about 5 minutes.  Remove from heat.
Ladle hot salsa into jars, leaving 1/2-inch headspace, if necessary, by adding hot salsa.  Wipe rim.  Center lid on jar.  Screw band down until resistance is met, then increase to fingertip-tight.
Place jars in canner, ensuring they are completely covered with water.  Bring to a boil and process for 15 minutes.  Remove canner lid. Wait 5 minutes, then remove jars, cool and store.