Something very exciting happened yesterday! For the first time in over a year, I felt called to the keyboard.  I felt the urge to put my fingers to the letters on my computer keyboard, and tell a tale on my sadly neglected blog.  Honestly, it felt really good.  In fact, it may have felt a little too good, because I kept thinking about that blog post into the evening, and I had the worst night of sleep!  Hopefully. that part of last night's adventure won't repeat, because I simply had to come back and get this recipe on my blog for future reference.
Several years ago, I went in search of a southern style green bean recipe that, at the time, I thought called for bacon and tomatoes.  I did find that version of green beans, but what I found way more common than the tomato version was a version that called for potatoes in place of the green beans.  That struck me as sort of… odd… For some reason, the idea of cooking potatoes and green beans together just did not appeal to me much at the time, but I made a note to come back in the future and try it out.  Well, that time arrived this summer when green bean season came on fast and furious.  It was short this year, as the weather wasn't ideal and the insects were putting in overtime this year.  It didn't take us long to go through the short repertoire of green bean recipes, so I reached into my back pocket and pulled out the rainy day edition of Southern Style Green Beans.
Let me just say this, this recipe is spectacular- I cannot believe how delicious this simple dish is.  Comfort food all the way, it just hits all the notches just right and quickly became a favorite.  The bacon adds flavor and fat, the green beans add color and flavor, and the potatoes cook down just enough to coat the green beans in a silky smooth sauce, while still maintaining most of their integrity.  A splash of vinegar, salt and pepper at the end brightens the whole dish and takes it to a whole new level.  At the time that I made this, I also wanted this to be a one-pot meal for dinner, so I also thawed a smoked venison sausage we had in the freezer and added that.  The sausage was a brilliant addition to the pot and I wouldn't hesitate to do that again!  If you don't happen to have the white balsamic vinegar called for, you can use regular balsamic, white wine vinegar or cider vinegar.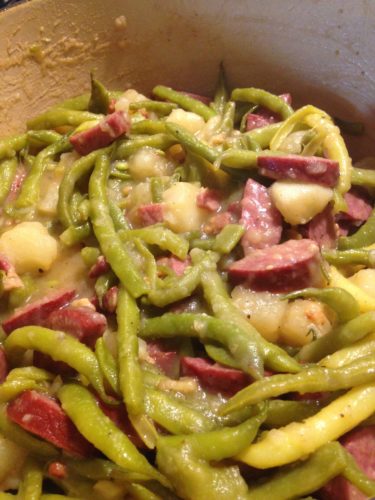 Southern Style Green Beans and Potatoes
4-6 slices of good quality bacon, chopped
1 medium onion, peeled and chopped
2 cloves of garlic, minced
2 pounds of fresh green beans, strings and stems removed and snapped
1-2 pounds of new potatoes, halved if small, quartered if large
1 cup chicken broth
1-2 teaspoons white balsamic vinegar
salt and pepper
In a dutch oven over medium heat, cook the bacon pieces until evenly browned, stirring occasionally.  Remove the bacon with a slotted spoon.  Give the remaining grease a rough eyeball for measurement- you want 1 1/2 to 2 tablespoons of bacon grease in the pot.  If there is significantly more than that, remove some with a ladle or gravy spoon.
Add the onion to the bacon grease and cook for 3-4 minutes.  Add the garlic and cook for a minute, followed by the beans, potatoes and chicken broth. If your broth is unsalted, add half a teaspoon or so of salt to the pot right away as well.  (Along with a few grinds of pepper if you like black pepper.)
Stir to combine, cover, reduce heat to low and cook for 15-20 minutes, stirring occasionally.  Don't stir too often.  The magic in this dish is that you want to cook the beans just enough that they are limp and bathed in potato puree, but not so much that the beans are falling apart and separating every time you stir.  Stir thoughtfully- checking the potatoes for tenderness each time you do so.   Once the potatoes are cooked through, remove from the heat.  Stir in the vinegar as well as additional salt and pepper if it is needed.  TASTE to see if the salt is needed- this will vary depending on how salty your bacon was at the beginning.
Serve immediately.
If adding sausage, just slice it and add it in during the last five minutes of cooking- just enough to cook the sausage through, but again, taking care to not cause the beans to fall apart.
This will serve 4-6 depending on whether you use it as a side dish or a main dish.