Every day I would say there are dozens of recipes that scroll across my facebook feed.  There are many that catch my eye, but then I'm frequently disappointed when I click on them and they end up being something that started with cake mix or cookie dough or some other product that I might not use.  I expected this cake to be the same, and was surprised when I clicked on it and discovered that it was an actual scratch cake.  That very same day Andy asked if I could possibly be persuaded to make him a pan of Gooey Apple Sheet Cake to take to a work party for Monday Night Football.  It was serendipitous, and I told him I would definitely make the cake, but it would be a Caramel Apple Sheet Cake instead.  I mean, how could that be bad?
It came together quickly, and also baked quickly, but since it was going to a party, I was unable to sample anything more than a few swipes of batter.  Monday night the report came in that it was a huge success, practically gone within 10 minutes of being unveiled.  My sweet husband directed all his co-workers to this blog for the recipe, and then texted me that I needed to post the recipe on the blog.
While I was happy to accommodate, what kind of food blogger would I be to post and review a recipe that I hadn't actually sampled?
And so a second sheet cake came into being this week.  It IS quite good- gooey and buttery and full of apple flavor, but for the sake of full disclosure, I have to confess that I think it's missing something.   I did alter the original recipe a touch by adding salt to both the cake and the glaze, and I'm sure that was a good call.  But I still think there is something missing.  I thought about adding a half cup of chopped pecans, and the only reason I didn't is because Zander is not crazy about nuts in his baked goods.  It turns out that I could have added the nuts because he doesn't care for the cake anyway.
Since Andy is working out of town these days, it's a bit of a challenge for us ladies to consume an entire sheet cake, and because it's so gooey, it's not really shareable.  But it IS good, and I definitely recommend it.  The next time I will sprinkle the finished product with toasted pecans before the glaze sets up- I think that may take care of the thing that is missing.
Follow the directions carefully on this one- the process is a little strange with melting things together and adding them to the flour, but it worked.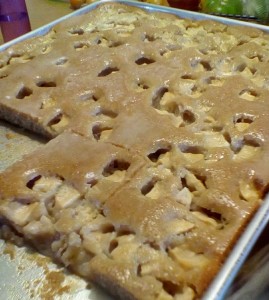 Caramel Apple Sheet Cake
2 cups flour plus 2 Tablespoons flour
2 cups sugar
1 teaspoon cinnamon
1/2 teaspoon salt
½ cup butter
1 cup water
½ cup shortening
½ cup buttermilk
½ teaspoon baking soda
2 eggs
1 teaspoon vanilla
2 cups peeled and chopped green apples
Frosting
½ cup butter
6 Tablespoons milk
3½ cups powdered sugar
½ teaspoon vanilla
1/4 teaspoon salt
? cup caramel sauce- ice cream topping is good
  Directions:
In a large mixing bowl, measure flour, sugar and cinnamon and stir to combine. Set aside.
In medium sauce pan combine butter, water, and shorting. Bring to a boil. After mixture reaches a boil add it to the four mixture and stir to combine.
Add buttermilk, then baking soda, then eggs, then vanilla in that order, mixing in between each addition. Stir in apples.
Pour into a 15×13 inch greased jelly roll pan.
Bake at 400 degrees F for 20 minutes. Let cool for about 10-15 minutes.
While cake is cooling, make frosting by combining butter, and milk in a medium mixing bowl. Microwave until butter is melted. Add powdered sugar, vanilla, and caramel sauce and stir until smooth. Pour frosting evenly over cooled cake.