Many, many years ago I tried a recipe that called for baking egg rolls instead of frying them.  The recipe was from Cooking Light magazine, and I just had to try it.  The recipe called for copious amounts of cooking spray- you'd spray the raw, rolled up egg rolls and pop them in the oven to bake.
What I remember about those egg rolls to this day is the awful texture of the wrapper.  It was like eating leather- chewy and not that beautiful crispness that you get from deep fat frying an egg roll.
I don't make egg rolls often because of that fry factor.  Deep fat frying fills the house with a smell that lasts for days, and in the end, I just find that the expense of the quantity of oil needed to fill such a vat just isn't worth it.  I might as well stop at my local Chinese place and buy a dozen egg rolls that have been expertly made.
But a couple of years ago I experimented with oven-baked chimichangas where I brushed the whole tortilla with olive oil and popped it in the oven.  That has become a great family favorite here- the tortilla gets deliciously crispy while the filling gets all gooey and cheesy, and every time I make them, I think that I need to try the same method with egg rolls soon.  So last night I did just that.
I made a batch of egg roll filling, and proceeded to fill my wrappers.  For my filling I still use that same Cooking Light recipe from all those years ago- it's a very good filling and is easy to boot.  My only changes to the recipe as written is that I always use a lot more black pepper than is called for, and I vary the meat I use.  This time it was ground pork- which really makes the best egg rolls, in my opinion.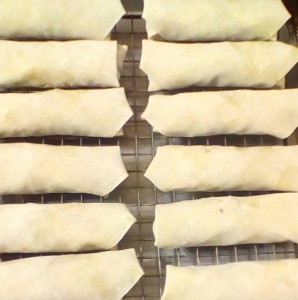 Once I had my wrappers filled, I decided to let them sit while I side-by-side tested one egg roll that had been shallow fried in a cast iron pan, and one egg roll that had been bathed in olive oil and baked.  For the shallow fried egg roll I used my organic palm shortening.  I dropped the shortening in the pan and heated it up over medium heat- I wanted a scant  inch of oil in the pan.  For the baked egg roll, I took some olive oil and made a nice puddle on a different cast iron skillet.  I rolled the egg roll around so it was well coated in the olive oil, and then popped it in a 375ºF oven.
The baked egg roll took about 20 minutes to brown up.  After ten minutes I flipped it over in the oven.  The shallow fried egg roll took about 2 minutes- one minute per side of egg roll.  The shallow frying worked better than I'd expected.  One of the things that I thought might happen would be that the egg roll would burst on the half not submerged in the hot oil, but that didn't happen at all.  My first one actually got a touch dark because I didn't expect it to cook so quickly.
I waited for both to be done and then set them on a plate side-by-side.  The baked one is the one on top- visually it looks different.  It resembles spring rolls that I get locally at the farmer's market.  Where the one on the bottom is the fried one, and looks more like I expect a real egg roll to look.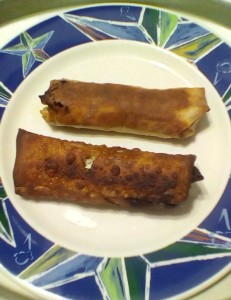 It was no contest.  Even bathing the whole egg roll in olive oil did not improve the texture much on the baked egg roll.  The outside layer got nice and crispy- it was much better than the cooking spray version.  But the layers underneath were tough and chewy and a touch unpleasant to eat.  The shallow fried egg roll was crispy and delightful the whole way through.
So there you have it.  I was delighted to discover that I could adequately shallow fry the egg rolls- that will put them on the menu more often.  It didn't take near as much fat as deep frying does, and the house also doesn't have that familiar smell.  Interestingly, the egg rolls also cooked more quickly shallow frying than I remember from deep frying.  It didn't take me long at all to have the whole batch fried up and hiding in a 250ºF oven to hold for when the kids were home from dance.  Overall, I'm very pleased with the results of this test.  I'm also very glad I did not experiment by baking up the whole batch.  As it was, we had a delightful dinner that will be repeated very soon.
Egg Roll Filling
3/4 cup diced carrot 3/4 cup chopped celery 2 cups shredded cabbage 1 teaspoon olive oil 1 small onion, chopped 2 cloves garlic, minced 1 teaspoon freshly minced ginger 1/2 pound ground meat (pork, turkey, chicken, beef) 1/4 teaspoon salt 1/2 teaspoon black pepper 1 1/2 tablespoons good quality soy sauce
Put the carrot and celery into the bowl of a food processor and process until finely chopped.  Add these to the shredded cabbage and set aside.
In a saute pan, add the olive oil over medium heat.  Add the onion and cook for two minutes.  Add the garlic and ginger and cook for another minute or so.  Add the raw ground meat to the pan. Break up with your spoon and saute with the onion mixture until no pink remains.  Add the salt and pepper.
Last, add the raw vegetables and cook until the cabbage is looking wilted and soft.  Add the soy sauce.  Taste your filling and adjust salt, pepper and soy sauce as desired.
Makes enough filling for about 14 standard sized egg rolls.