Several years ago I received a rather delicious stew recipe in my inbox.  It was from food blogger Carolyn of Tasting Spoons, and it quickly became one of my favorites.  I hadn't made it in a while though, and several weeks ago I picked up a nice sized cabbage, because when they're really cheap, I just can't help it.   We had some slaw, and some cabbage in a stir fry, and then some cabbage as a simple side dish, and I still had plenty left.  My mind turned to this Cabbage Patch Stew, and as I glanced over the ingredient list, I decided I needed to make some adjustments, simply because my grocery budget for the week was pretty much gone, and I wanted to try and make this with mostly on-hand ingredients.
As I read it over a few times, I kept getting to the part at the end where it's a highly adjustable recipe, and so I just decided to go for it.  The first change was the meat.  Instead of using ground meat, I grabbed a package of Smoked Sausage, thinking it would be an excellent compliment to the cabbage in the stew.  Going down the list, I came to the canned tomatoes, quickly checked the pantry and confirmed that I did indeed have a large can of RedGold diced tomatoes, which would work beautifully in carrying a lovely tomato flavor throughout the stew.   I paused at the mushrooms, which Andy and I love, but the kid don't, and simply decided to leave them out and see what happened.
Next, I got to the spices.  The original called for 2 teaspoons of chili powder and 1 teaspoon of cumin.  I decided to flip-flop those, as my chili powder these days seems to be on the heated side, and I didn't want the stew to be too spicy for the kids- but upping the cumin would add the flavor that reducing the chili powder would do.
And finally, when I got to the mashed potatoes at the bottom, a quick tour of the pantry confirmed that if I wanted mashed potatoes, I would have to run to the store.  But as I thought about the tasty stewing liquid, I wondered how it would be over hot rice, and since I had that, I went with cooking up a few cups of plain old white rice.
After thinking all the ingredients through and deciding what to change up, I went to work.  I began with browning up the onion, cabbage, celery and garlic.  I decided that I didn't want to begin with the sausage, because I didn't want all the flavor to leech out of the sausage.  I would add that towards the end, and hopefully maintain the integrity of the sausage slices.  Ones the veggies were cooked through, I added the beans, tomatoes, broth and seasonings- leaving out the chicken broth and simply using beef.   It was already smelling fantastic, but I put the lid on and let it cook for about 15 minutes.  I gave it a stir, and then added in the sausage and gave it an additional fifteen minutes while I finished preparing the rice.
The decision to use sausage and rice for this dish made magic in the pot.  What was already a favorite stew in my mind turned into something that became a craving.  It was a delicious variation on a red beans and rice- the cabbage just added this beautiful layer of sweetness and heartiness, and the whole thing was simply amazing.  Amazing.  I don't use that word lightly, but two days later when we were going to the fridge for leftovers for lunch, Andy and I practically had a knock-down brawl over who would get the last leftovers.  It was that good.
As I'm writing this out this morning, my mouth is watering.  Guess what's going on the menu again very soon?  This Updated Cabbage Patch Stew is delicious and easy- and a guaranteed affordable hit for the family.
Consider the mushrooms optional.  I didn't use them and thought the stew wonderful, but I can certainly see how they'd add another layer of depth, and so I'd consider using them if I could get them past the kids.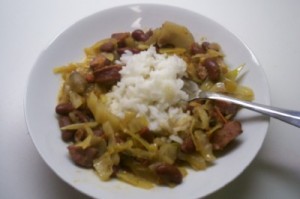 Updated Cabbage Patch Stew
1 tablespoon olive oil
2 medium onions, thinly sliced
1 1/2 cups cabbage, thinly sliced or shredded
1/2 cup celery, diced
2 cloves garlic, minced
2 cups kidney beans, drained and rinsed
1 (28 ounce) can RedGold diced tomatoes
2 cups fresh mushrooms, sliced
2 tsp ground cumin
1 tsp Chili powder
1 Tbsp Worcestershire sauce
1 tsp beef broth concentrate
1 1/2 cups water
salt and pepper to taste 1 pound Smoked Sausage, cut into slices 1 1/2 cups uncooked white rice, cooked according to package instructions
Add the olive oil to a dutch oven and heat to medium.  Add onions, garlic, cabbage, and celery; cook until vegetables have lost their raw color- about 5 minutes.  Add beans, mushrooms, tomatoes, seasonings, Worcestershire, beef broth concentrate and water.   Cover and simmer for 15-25 minutes, and check for seasoning with salt and pepper. Add more or less water as needed to the consistency you like.  Add the sliced sausage, cover and simmer for an additional 15 minutes.
Serve the stew atop a nice mound of fluffy white rice.  Eat and repeat.