'Tis the holiday season, and the hustle and bustle can be overwhelming for many.  The drive-thru or the pizza takeout counter become frequented much more this time of year than any other.  Why?  Because we're so busy, we forego real food for fast food, and our constitutions suffer because of it.  I really think that the extra pound or two that people manage to put on over the holiday seasons is NOT from the extra cookies, homemade candies and celebratory dinners.  It's from the quickie dinners that we all resort to as we dash from one activity to another.
Save yourself a few pounds and some hassle by cooking now, and freezing for later. One of the things I like to have on hand this time of year is a batch of Sloppy Joes.  So easy, so hearty, and in general, a real crowd pleaser.  Everyone in my family enjoys sloppy joes, and it also has the benefit of being good enough for company too!  With a batch in the freezer, you can drop it in the crock pot to warm while you're out running around, and then all you need to do is stop and pick up a package of hamburger buns to serve it on.  Though, buns freeze too, so while you are grocery shopping for the ingredients for the sloppies, might as well pick up a package or two of buns and stash them in the freezer too!
Zander nearly discovered my secret yesterday to my delicious sloppy joes.  He took a break from playing and came to hunt down a snack and casually asked what was for dinner.  I told him Sloppy Joes, and he paused and eyed the vegetables on the counter.  He warily asked me if they were going to be the kind that were just meat. Ah, yes, of course buddy, we're also having salad.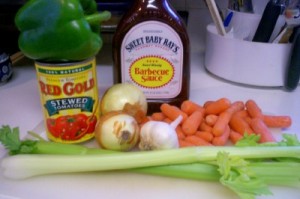 What he doesn't know now won't hurt him in the least. My recipe has evolved over the years, but there are a few things that never change.  One is the barbecue sauce involved- we just really like Sweet Baby Ray's if I'm going to buy sauce.  Two is that I always, always use a can of Red Gold Stewed Tomatoes in my sauce.  I love adding the stewed tomatoes, because it kind of reigns in the barbecue flavor while adding a whole lot more than just tomato to the sauce.   And the third thing that I always do is that I blitz up the vegetables into oblivion, so no one is the wiser that this sloppy joe recipe is actually loaded with good for you vegetables.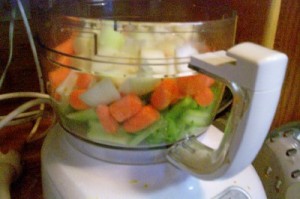 I process them and then add them to my browned beef, and once the whole mixture has cooked together, you can't tell in the least that a good portion of this ground mixture is actually vegetables.  This time, because Zander inquired about all the vegetables that were out, and the can of stewed tomatoes, once the vegetables were browning with the beef, I tossed the can of Red Gold Stewed Tomatoes in the processor as well and gave that a pulse or two to break up the tomatoes.  Worked great, actually, and there weren't large chunks of tomato scattered throughout.
The Sloppy Joes were, as usual, a hit for dinner last night, and made plenty to tuck away for another day.  In fact, I used three pounds of ground beef, and I daresay that we'll probably be having them for lunch a day or two and then having another full evening meal as well.  By adding a salad or veggies and dip, you've got a very healthy meal that won't break the waistline this holiday season.
Updated Sloppy Joes
3 pounds ground beef
2 small to medium onion, diced (1 cup onion)
1 green bell pepper, diced
2 carrots, peeled and cut into chunks (Or two handfuls baby carrots, cut in half) 2 cloves garlic, roughly chopped 2 celery stalks, cut into chunks
1 (14.5 oz) can Red Gold Stewed Tomatoes
1 1/2 cups bottled barbecue sauce Hamburger Rolls for serving
Brown ground beef in a large pot over medium-high heat. Drain any grease.  Place all the chunks of vegetables, as well as the garlic in the food processor and process until finely ground.  Add the veggies to the ground beef and cook with the beef for 15 minutes, stirring occasionally.
Add the Red Gold Stewed Tomatoes, breaking up the larger pieces of tomato with a wooden spoon, or puree the stewed tomatoes in the food processor before adding. Add barbecue sauce and bring to a boil. Reduce the heat to low, cover, and simmer for about 20 minutes.
Sloppy joe can be served up at this point or simmered gently until needed. The longer it simmers, the more flavorful it will be. Sloppy joes are actually best made ahead of time and reheated. This also freezes very well for several months, and holds nicely in a crock-pot. Doubles and triples easily as well.