If you'd asked me a few weeks ago what Christmas cookies we were making this year, I would have laughed at you and said something like, probably none.  When you have limited grocery funds, real food has to come first before cookie ingredients.  But the grocery strings have been lightened just a tad, and some baking will commence anyway.   For the most part though, I was kind of thinking that we'd probably just make some delicious cut out Rich Rolled Sugar Cookies, because decorating them is one of the kids favorite things about the season.
But then I got to thinking that maybe the kids had other favorites we should include, so I asked them each for another favorite cookie.  Zander piped up with Snickerdoodles and Abigail chimed in with some kind of chocolate cookie.  After looking through a few cookies, she decided that Cherry Cordial Cookies would fit the bill nicely, but then after looking through more recipes, thought that maybe we should add Choco-Marshmallow Cookies too.  So then I asked Andy what he would like, though I needn't have bothered, because I knew right away his request would be Ginger Spice Cookies.
See how my list has expanded through no effort of my own?
Then, in the interest of family harmony, I also asked my Hawaiian sister what cookies she would like best, and she quickly added my Camping Cookies and a batch of Lemon Bars to the list.  I'm a little surprised to discover that I've never shared my Lemon Bar recipe here on the blog.  Shame on me!  Once I make those, I will remedy that right away!
Since I asked her, Abigail has also been on a quest to find something really delicious to add to the cookie list.  She has since added Whoopie Pies and Vanilla Fudge to the list.  I hope she stops!  Zander has been working on learning to like foods he thought he didn't like and has discovered that he kind of likes sweet minty things, and so he has requested something minty.  Oh my gosh, I may just have to make a batch of minty brownies!  Be still my heart!  Here is our list as of a few hours ago: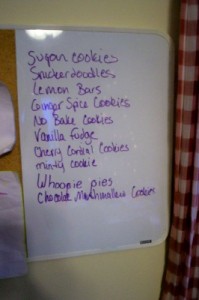 I'm a little afraid to ask other family members if there are any favorite cookies that are missing.   Other than the Vanilla Fudge, there probably won't be any candy cranking out this year.  Nuts have gotten prohibitively expensive, and many of my candies need nuts.
So what are you making this year?  Anything fun, new and exciting?  Old favorites?  I'd love to know- just don't tell my family, or they'll add it to my list!