This morning I was thinking about this blog and wishing I had something to post about!  The last few weeks of eating in our home have been pretty rushed and there hasn't been all that much that would be interesting to blog about.  Then, I was reminded by several internet entities that today is Pancake Tuesday, and I remembered a pancake I made last week, and thought I'd share it, since I had the forethought to take a picture of it.

It was actually about a year ago at this time that I first posted the recipe for Baked Pancake For A Crowd.  I don't think I've made it since, but a nice comment here on the blog reminded me of the recipe, and when I was scrambling for dinner one day last week, I thought it would be the perfect dinner.  This time though, I added some frozen blueberries, and those took a nice oven pancake and turned it into a spectacular pancake.  Just look at this thing!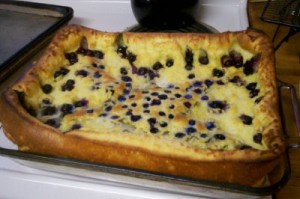 It baked up beautiful and puffy and the blueberries really added to it as well.  Basically, I made the pancake batter and poured it into my hot pan, and then I took a cup of blueberries- still frozen, and dropped them into the batter- as you can see, most of them stayed near the top of the pancake, but some of them sunk in too.  Even using frozen berries, the pancake baked up in normal time and even Zander ate his baked pancake.  He's not a fan of the baked pancakes usually, but adding the blueberries, and then sprinkling his piece with brown sugar talked him into it, and he ate almost his whole piece, instead of the obligatory bite.
Honestly, I think you could add just about any fruit to this pancake and it would be delicious.  I even have this idea to use raspberries or blackberries, and then serving with a dollop of lightly sweetened cream cheese.  The possibilities are really endless, and the results are spectacularly stunning- sure to impress if you find yourself having company around the brunch hour.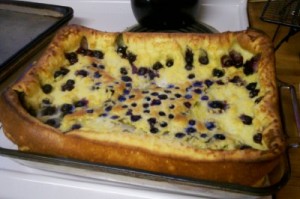 Baked Pancake For A Crowd
8 eggs 2 cups milk 2 tablespoons sugar 1 1/2 teaspoons salt 2 cups all-purpose flour 5 tablespoons butter.
In a mixing bowl, combine the eggs, milk, sugar, salt and flour.  Mix well, cover with plastic wrap, and set aside for 30 minutes.
Meanwhile, preheat the oven to 500ºF.
Put the butter into a 9×13 baking dish and set in the oven until melted.  Once melted, use a pastry brush to brush it over the bottom and up the sides of the dish.
Pour the egg mixture into the pan and put into the hot oven.  Bake for 15-20 minutes or until the middle is set and the edges are golden brown and puffy.
Serve with maple syrup or your choice of fruit filling.  Cut into 12 portions.
Serves 6 hearty appetites, or 12 smaller appetites.