Well hello there my Internets! I've missed you.  I've missed you terribly.  I feel like a bad relative who ran away for a while and is tentatively trying to return things to normal.  I've missed blogging a lot.  I'm hoping that in the next weeks and months I can figure a good way out to get my blogging groove back.  Time is such an issue! But I'm hopeful, and with a new dance schedule starting up next week, and no homeschool for a few months, it's entirely possible.  Once school starts back up though, watch out! I definitely need to figure out a good way to carve in some me time!
Anyway.  What I am most excited to share with you today is a recent discovery we've made into the world of homemade sausage.  Andy and I decided to take the plunge this year and purchase a half a pig from a farmer Andy knows.  When the butcher asked what we wanted done with the pork, we were kind of like "huh?"  I mean, we know what kind of pork we like to buy, but just how did we want this pig processed for our freezer?  I was a little surprised to learn that many people have sausage and hot dogs made up with the scraps of pork from trimming.  Sure, they might be good, but when we're paying so much for good quality pork, I don't want it turned into hot dog meat.  So we ended up getting many packages of pork chops, many packages of shoulder roasts, one package of ribs, two hams, 10 pounds of bacon, and then 10 pounds of ground pork.  I didn't want anything fancy, and I figured I could come up with a few ideas as to what to do with the ground pork.  Everything else I could break down myself if I needed stir fry meat or kebab meat or something.
It was the ground pork that started it.  Andy casually asked one day if I thought I could make breakfast sausage with it.  Huh.  Why couldn't I?  So I started searching out recipes, looking for blends of seasonings that appealed to me,  and of course I got some pork thawed out.  I started with two pounds of pork for my first trial.  We were having a breakfast for dinner night, and I figured that with half of the sausage I would make patties to go with pancakes, and the other half I would freeze for future biscuits and gravy.
Sage, Salt, Black Pepper, Marjoram, Brown Sugar, Crushed Red Pepper Flake and a hint of Fennel went into my breakfast sausage.  For the sage I used both dried and fresh from my garden, and the fennel was just the tiniest hint of it.  It certainly was easy enough.  I added all the seasonings to my ground pork and mixed it up with my hands.  I shaped half into about 15 small patties, and the other half I froze in bulk.  The patties I covered with plastic wrap and put them in the freezer overnight to give the flavors time to develop and meld together.  The next day, we had our breakfast.
The sausage was absolutely delicious.  Wow, was it good! The spice blend was perfect, and using our own ground pork made it so spectacular.  It wasn't as greasy as standard breakfast sausage is, and it certainly didn't have any fillers or preservatives or anything.  They weren't overly salty either, which I find to be a problem often with breakfast sausage.  It was just plain delicious.  We all enjoyed that sausage, and we decided right then and there that next year we'll be getting a whole pig so that we can have even more ground pork.   A few days later I thawed out the other half of the sausage and fixed up biscuits and gravy for dinner.
I had reservations about this one.  For one, I really didn't think the kids were going to go for it.   I mean, it's not really that appealing to look at, and the kids don't like anything with the word "gravy" in it.  But I made it anyway, promising Zander that if he didn't like it, he could have a bowl of cereal later on.  Surprise, surprise.  It was a huge hit.  Of course, the homemade sausage made it even better, but both kids cleaned their plates quickly.  Zander has even requested biscuits and gravy repeatedly for the last few weeks.
Anyway, this breakfast sausage recipe can certainly be used with any ground pork that you can purchase from the butcher.  The recipe is for 2 pounds at a time, and really couldn't be any easier.  It's also quite affordable, and you can feel a little better about feeding your family sausage without worrying that you're stuffing them with sodium and preservatives.   I suspect that one could probably even substitute a good quality ground turkey for half of the ground pork if you wanted a leaner version.  I haven't tried that at all, and am not sure if I will, but it certainly seems do-able in my mind.  To make it even easier to use, place your shaped patties on a baking sheet lined with plastic wrap and freeze.  Once frozen you can pop the patties in a freezer bag and simply pull out the quantity you need at a time.
Coming up, I've also been playing with Italian Sausage- oh my, does that make some incredible homemade pizza!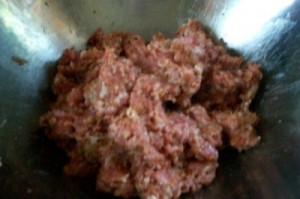 Homemade Breakfast Sausage
1 teaspoon dried sage
8 fresh sage leaves, finely minced
2 teaspoons salt
1 teaspoon ground black pepper
1/4 teaspoon dried marjoram
1 tablespoon brown sugar
1/8 teaspoon crushed red pepper flakes (optional)
1/8 teaspoon fennel seed
2 pounds ground pork
Combine the spices in a spice grinder or mortar and grind until the fennel seed and pepper flakes have been broken up a bit.  Go ahead and put all the spices in to help release their flavors.
Combine the spices and the pork in a  bowl and mix well with y0ur hands.  Shape into patties if desired.  Refrigerate overnight for best flavor.  Freeze as desired.