After the breakfast sausage post the other day, I figured I better get back right away and share the Italian Sausage recipe.  Like the breakfast sausage, this is a revelation for me.  I can make my own sausage?  Oh my gosh, I can make my own sausage!  We love Italian style sausage on our pizzas, but I also use it in soups frequently, and one of Andy's absolute favorite meals is good ole Sausage and Peppers.   And while I may not be making and stuffing links with this sausage, it can certainly be patted into burger-sized patties, grilled up, and topped with grilled peppers and onions.  We haven't done that yet- soon, very soon.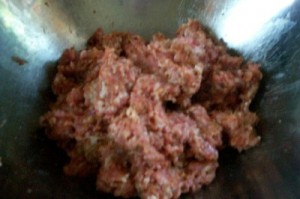 Like the breakfast sausage, this is a really simple and easy affair.  I put the ground pork in a bowl, combine the spices in my mortar, crush with the pestle, and then dump the spices into the pork.  A quick mix with the hands, and you have homemade Italian style sausage.  You notice I keep saying to mix with your hands.  One of the fabulous things about using freshly ground pork- the kind that you know doesn't have additives- is that mixing by hand is a pleasant experience.  There aren't any fillers or preservatives to stick to your fingers and get all clumpy and sticky.  It's just straight up ground pork with spices.
I've made this twice now.  The first time I made the sausage I happened to be making a Lasagna Soup for supper.  As I thought about that, I thought about how much I love Italian sausage in my lasagna, and I added it to my soup.  Wow, it was fabulous.  The second way I  used the sausage was stuffed in calzones- a pizza relative.   This sausage was meant for homemade pizza.  So flavorful and wonderful.  If you prefer a more spicey Italian sausage, that is accomplished easy enough by adding some crushed red pepper flakes or cayenne to the sausage mixture.   The kids are not fans of spicy sausage, so I leave the red pepper flakes out for now.
This recipe makes 1 pound of fresh Italian Sausage.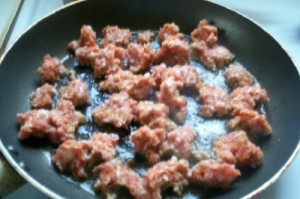 Homemade Italian Sausage
1 teaspoon sea salt 1/2 teaspoon freshly ground black pepper 1/2 teaspoon dried savory 1/2 teaspoon Italian Seasoning 1/2 teaspoon fennel seeds 1/4 teaspoon garlic powder 1/4 teaspoon onion powder 1/4 teaspoon paprika 1 pound ground pork
Combine the spices, salt and pepper in a spice grinder, or mortar and grind until the fennel seed has been crushed.  If using crushed red pepper flake, add between 1/4 and 1/2 teaspoon as desired.
Add the spices to the pork.  Mix together with your hands.  Refrigerate overnight, freeze indefinitely, or use right away.