I've never been fortunate to have a real Philly Cheesesteak.  I mean, I've had them out and about, but I've only ever been in Philadelphia once in my life- and that was for a work-related conference that had us inside a conference/meeting center for about 8 hours.  Wow, that was a really long time ago and seems like a whole other life.  I suppose it sort of was.  Anyway, Philly Cheesesteak seems to be some kind of steak sandwich with peppers, onions and cheese.  The cheese can be a huge debate- there's the camp of people who prefer fake cheese like Cheez Whiz or Velveets, and then there's the camp that uses slices of real cheese- most often I've seen both Cheddar and Provolone used.  This particular cheesesteak, from Cooking Light magazine sort of combines the two.  Instead of using the liquid-like cheeses which bathe the steak with all their fake-cheese goodness, we make a white sauce and use full-flavored cheeses to make a sauce that totally sets this cheesesteak sandwich apart from others.
For the steak part of the sandwich, suprisingly we use flank steak.  While I would have thought that crazy tough for a sandwich, I was proven completely wrong in this case.  By freezing the flank steak for at least 15 minutes, you can slice it paper thin with a sharp knife- this is key to making this recipe work.  Because then the beef can be quickly stir-fried and will stay tender and easy to eat.
This recipe also utilizes mushrooms to add a more beefy flavor- specifically portabella mushrooms.  When I made this, I found a nice wild mushroom blend which included portabellas, and I decided to use that.  That turned out quite well, with the exception that I ended up with a few inedible shiitake mushroom stems in my sandwich.   I think as long as you stay away from plain old button mushrooms you can be flexible on which mushroom you use.
So basically what I did when I made this recipe was that I started with the beef.  I followed the instructions to freeze and slice thinly, and I thought that worked great.  What I changed up was that I sauteed the beef and the veggies completely separately because the veggie portion contained my kids most-hated veggies.  Mushrooms, onions, and cooked bell peppers would render the sandwiches inedible for them.  So I ended up doubling the Worcestershire and soy sauces- using half for the beef and half for the veggies.  Yes, this whole process dirtied another pan and was extra trouble on my part, but it was worth it, because we all enjoyed these sandwiches immensely.
My last change to the recipe was to change the cheese sauce a bit. I did use the Provolone and Parmesan cheeses called for, but I doubled them.  I think it's fairly safe to say that Cooking Light used the quantities they used because they were trying to keep calories and fat in check, but I found the resulting sauce slightly bland, so I doubled both cheeses and found the sauce to be perfect.  Perfectly cheesy and ready to bathe my meat and veggies in delicious goodness.  I've adjusted the recipe below to reflect the doubled cheese amounts.
Mmm, just typing this all up again makes me in the mood for these sandwiches again.  I had made the leftovers again for lunch the next day, and I found that they reheated beautifully- so this is definitely a candidate for a make-ahead meal.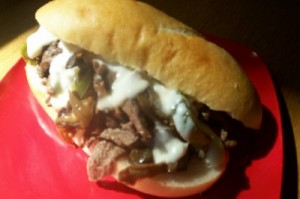 Philly Cheesesteak
Adapted from a recipe in Cooking Light magazine, March 2012
1 (12-ounce) flank steak, trimmed
1/4 teaspoon kosher salt
1/4 teaspoon freshly ground black pepper
2 (5-inch) portobello mushroom caps
2 teaspoons extra-virgin olive oil, divided
1 cup thinly sliced onion
1 1/2 cups thinly sliced green bell pepper
2 teaspoons minced garlic
1/2 teaspoon Worcestershire sauce
1/2 teaspoon lower-sodium soy sauce
2 teaspoons all-purpose flour
1/2 cup 1% low-fat milk
2 ounces provolone cheese, grated
4 tablespoons grated Parmigiano-Reggiano cheese
1/4 teaspoon dry mustard
4 (3-ounce) hoagie rolls, toasted
Place beef in freezer for 15 minutes. Cut beef across the grain into thin slices. Sprinkle beef with salt and pepper. Remove brown gills from the undersides of mushroom caps using a spoon; discard gills. Remove stems; discard. Thinly slice mushroom caps; cut slices in half crosswise.
Heat a large nonstick skillet over medium-high heat. Add 1 teaspoon oil to pan; swirl to coat. Add beef to pan; sauté 2 minutes or until beef loses its pink color, stirring constantly. Remove beef from pan. Add remaining 1 teaspoon oil to pan. Add onion; sauté 3 minutes. Add mushrooms, bell pepper, and garlic; sauté 6 minutes. Return beef to pan; sauté 1 minute or until thoroughly heated and vegetables are tender. Remove from heat. Stir in Worcestershire and soy sauce; keep warm.
Place flour in a small saucepan; gradually add milk, stirring with a whisk until blended. Bring to a simmer over medium heat; cook 1 minute or until slightly thickened. Remove from heat. Add cheeses and mustard, stirring until smooth. Keep warm (mixture will thicken as it cools).
Hollow out top and bottom halves of bread, leaving a 1/2-inch-thick shell; reserve torn bread for another use. Divide the beef mixture evenly among bottom halves of hoagies. Drizzle sauce evenly over beef mixture; replace top halves.