This is a quick pickle, my friends.  This is a one jar at a time deal that you store in the fridge and pull out as needed.  And it will be needed, because these jalapenos are absolutely delicious, and are a must have for your next barbecue.
The idea to make them came about because we were planning on burgers for Father's Day.  It's the perfect hot weather food, but I did want to dress them up a bit by adding some different toppings.  In my mind I was envisioning a guacamole-bacon cheeseburger with pickled jalapenos.   When I mentioned to Andy that I'd pick up a can of pickled jalapenos, he got a little deflated- those are always so soft and mushy.  So I purposed to pickle my own.  I found a great recipe and blog post online to use as my inspiration and went from there.
I chose 8 firm and rather large jalapenos from the grocery store, and when I got home I sliced them up.  I sliced off the tops, and then used my knife to remove the membranes and most of the seeds.  Then I sliced each jalapeno into rings and set them in a bowl while I made my brine.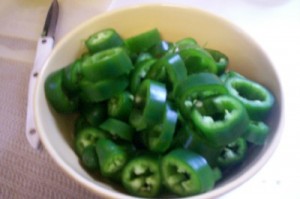 The brine was quick.  Apple cider vinegar, water, Mexican oregano, salt, sugar and one smashed clove of garlic went into my pot and were brought to a boil.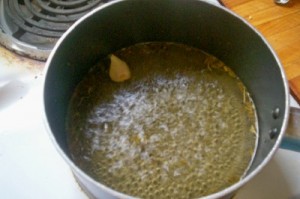 Then I added the jalapeno rings and turned off the burner.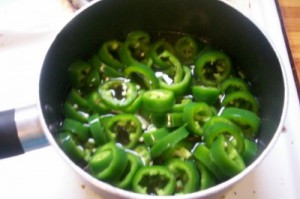 I let them soak for about 10 minutes, heading back to the stove and giving the peppers a toss about every 2 minutes or so.  After the ten minutes was up, I put the pepper rings into a 1 1/2 quart jar, and then poured the brine over.  Into the fridge they went to chill.
Delicious.  They are hot- but other than one or two slices that I've had that have been scorching, they've been manageable heat.  They're so tasty- and the best part is that they stayed crisp.  They're wonderful, and Andy is very excited about having a jar of these in the fridge to add to his sandwiches over the next few weeks.
By the way, this recipe is not canning approved- this is meant for tucking into the fridge and eating within a few months.   If you want to can pickled jalapenos, you'll want to find an approved recipe for safety purposes- such as this one over at The Hungry Texan.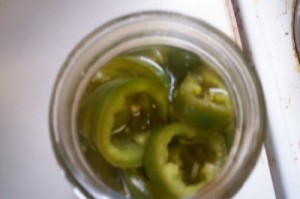 Quick Pickled Jalapenos
8-10 jalapeno peppers, sliced, membranes and seeds removed as desired
3 tbsp sugar
3/4 cup apple cider vinegar
3/4 cup water
1 tbsp kosher salt
1/2 tsp Mexican oregano
1 clove garlic, crushed
Combine the sugar, cider vinegar, water, salt, oregano and garlic in a saucepan.  Bring to a boil over medium high heat.  Slide the jalapeno pepper rings into the brine and give a gentle toss.  Turn off the heat.  Let the jalapenos sit in the brine for ten minutes, stirring occasionally.
After ten minutes, pack the jalapeno slices into a canning jar or two, and then pour the brine over the peppers.  Store the jalapenos in the fridge.