Do you know what I love about stir-fries?  You can literally make them with anything you have on hand.   Literally.  Any handfuls of vegetables- fresh, canned or frozen can be compiled in a pot with or without meat and be called dinner.
Yesterday I looked in the fridge and freezer debating what should be for dinner.  I looked at some chicken breasts in the freezer- small ones of which there was definitely not enough for four people.  I looked at a pair of small zucchini and a handful of mushrooms and a bag of snap peas that needed to be picked over, and I decided that stir-fry was the dinner winner.
I cut up those mushrooms and zucchini, sorted through the snap peas, and walked out to the garden where I picked a handful of swiss chard.   A few carrots, a stalk of celery, and a red bell pepper rounded out the assembly, and then I went to assemble a sauce.
Hmm, I had a problem here.  I am actually out of instant chicken broth, hoisin and oyster sauce.  I had simple soy sauce, a plethora of sauces to add a ton of heat, and the little jar that makes stir-fry magic for me every single time.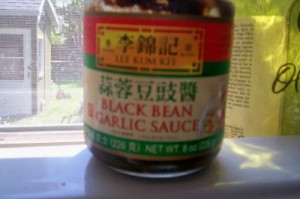 Black Bean Garlic Sauce is the most wonderful invention ever.  It's made from fermented black beans, and just a tablespoon or two adds the most wonderful flavor and depth to any stir-fry.  I didn't need any other Asian style sauces, as long as I had my Black Bean Sauce and some soy sauce, I was good to go.  I added a few dashes of ground ginger, garlic and black pepper, and we had a delicious and easy stir-fry dinner.
I first discovered this sauce a few years ago when I found a recipe that called for the fermented black beans.  After consulting with a few people, it seemed that it was hard to find (especially here in the midwest) and was something that was also difficult to acclimate to the taste of.   So I spent some time browsing the Asian department at our grocery store when I found this sauce- which actually gave me a huge shortcut because I didn't need to prepare my own fermented black bean paste.
If you were to taste this sauce straight up… well, I would liken it most to taking a bite of beef broth concentrate.  It's thick, rich, PACKED with flavor and umami, but not something you want to eat as it is.  It's meant to be used in something else.  Instead you want to add just a spoonful or two to a dish- it's amazing the difference it makes in a stir-fry sauce.  It's a touch salty as well, and it also has a bit of a funky smell- after all, the sauce is made from beans which have been fermented.
Trust me when I say you should keep a jar of this in your fridge.   I'll make stir-fries with other sauces quite often, but I always come back to a plain old sauce made with just soy sauce, black bean and garlic sauce and a touch of water.  Add some cornstarch to thicken it up and you have stir-fry magic.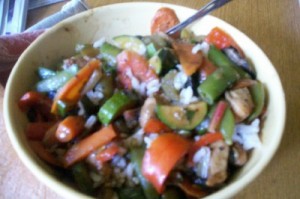 If you're curious what else one might use this sauce for, the original recipe I bought it for is hiding in the Recipe Trove.  Chinese Noodles with Golden Tofu and Greens is absolutely delicious- and can certainly be made with chicken or pork instead of the tofu if you are tofu-averse.  It's also a great way to use those baby bok choys and other greens that are abundant at the farmer's markets right now.