We have tacos or burritos quite a bit at our house.  It's just such a great, quick and easy meal.  You can vary it by using different meats, cheese and veggie toppings, and it's totally a make-ahead deal.  It's so easy for me to cook up meat, shred cheese and chop veggies, and then put them in the fridge for later.  When we arrive back home, three minutes in the microwave heats up the meat and we're ready for dinner.  It's hard to beat that!
As the kids have gotten older and much more active, their appetites have increase dramatically.  Where we used to get away with 1 pound of ground meat for our tacos, we're now up to 1 1/2 pounds, and even then, sometimes I up it to 2 pounds, just in case.  But then there is the inevitable leftovers.  One of our favorite ways to deal with leftover taco supplies is to make a taco pizza. Sometimes they get turned into enchiladas, and sometimes we simply eat the leftovers for lunches.  But a few weeks back I wanted something different.  I still wanted taco flavor, but not tacos.  I thought a taco pie sounded fun and easy.
You could totally use a store bough pie-crust for this, but I wanted to use something that was made with cornmeal and had a corn flavor, so I went that route.  Once I had my crust, it was a simple matter of assembly and a quick bake to put it all together.  After I baked it up, I topped it with lettuce, tomato, and for some of us a scoop of sour cream and peach salsa.  It was delicious- and even Zander ate a good bit of his slice of pie.   You can obviously adapt this in a myriad of ways.  Add a layer of refried beans to the pie before adding the meat.  Stir a can of black beans into the ground meat.  Or skip the meat entirely and just use some kind of delicious bean filling.  No matter how you do it, it's a fun way to change up the leftovers.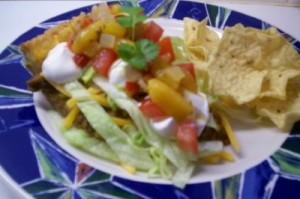 Taco Pie
1/4 cup cornmeal 3/4 cup flour 1 1/2 tsp baking powder 1/4 tsp salt 1/3 cup milk 1 TBS vegetable oil 2 cups leftover cooked taco meat 1 1/2 cups shredded cheese Assorted taco toppings as desired
Preheat oven to 450ºF.  Spray a 9-inch pie plate with cooking spray.
In a small mixing bowl combine the cornmeal, flour, baking powder and salt.  Mix well.  Add the milk and oil, and mix together until you have a nice ball of dough.
Roll out the dough on a lightly floured surface to about 10 inches or so- place in the pie plate and form the edges as desired.
Spread the taco meat in the crust and then top with a layer of cheese.
Bake for 8-10 minutes, or until the crust begins to brown and the cheese is all melty and bubbly.
Top with extra toppings such as lettuce, tomato, black olives.  Pass the sour cream and salsas at the table.