The single easiest act of food preservation you could ever do is freeze your own blueberries.  You know how you go to a farmstand or a Farmer's Market and you see those big 10 pound boxes of blueberries, and you wonder how you'd ever manage to use them all?
Buy them.  You'll use them all.  Here's what you need.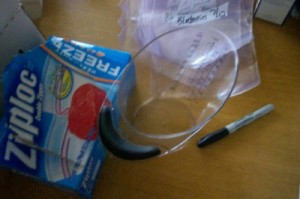 Gather your supplies.  Freezer bags, a sharpie, and a measuring cup.  I like to use quart size bags.  4 cups of blueberries is the perfect quantity for a blueberry pie.  My blueberry muffin recipe uses 2 cups, and I've gotten fairly good at eyeballing half a bag.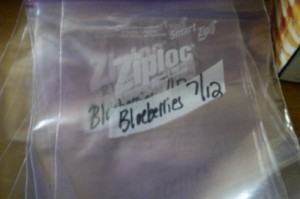 The first step is to label your bags.  It's really difficult to write on them after the blueberries are already there- so label the bags first.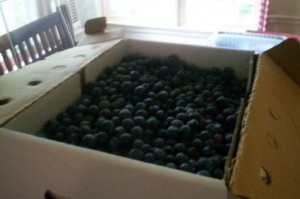 Next, you're going to get your blueberries out.  Look at their perfectness.  If you see any stems, you can pick them out.
Now, here's the important part.  Do not wash or rinse your berries.  You want them to go into the freezer bags just as they are- dry and perfectly individual.   Resist that inner germ phobe who says to wash them first.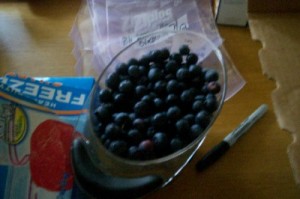 Measure out your berries according to the size freezer bags you have.  Use your hands to gently move the berries from box to cup.  Take advantage of this opportunity to check for bad berries or stems.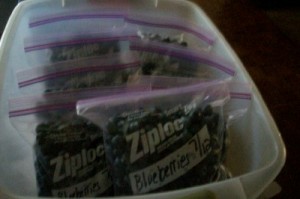 And just like that, they're ready for the freezer.  I found that one ten-pound box yielded me 30 cups of blueberries, or 7 1/2 quarts.  20 pounds put 15 quarts in my freezer.  That's a lot of berries!
And here's the best part… the blueberries individually freeze themselves all on their own.  Once frozen, they pour right out of those bags like marbles, so you can easily measure them for any recipe- and then re-seal to pop it back in the freezer.   Had you washed the berries and put them in the freezer bags without being perfectly dry, they would freeze together in a block.  If you're truly worried about germiness, you can always give the berries a rinse when they come out of the freezer.
Blueberries are some of the best foods you can eat- they're loaded with powerful antioxidants, and insanely delicious.  There's nothing like a fresh blueberry pie or a batch of blueberry muffins in the dead of winter to brighten your day.
So go get some while they're abundant!  If anyone local is curious where to get them, Sunny Hill Farms in Suamico has them for $30 per 10 pound box, and Oakridge Farms in Neenah has them for $32 a box.  Call ahead to both places first for availability, as both places have them delivered from farms in Michigan.