My August issue of Eating Well magazine arrived on a day where I was thinking about cooking something new for dinner.   As we settled into the house last week, it took a few days before I really felt like I could work in the kitchen.  As it is now, the layout is terrible.  My stove is crammed into a corner far away from the sink and counters.  Yet, it is a gas stove, which I'm beyond THRILLED to have at my disposal once again.  In the next week, I anticipate Andy making some magic in the kitchen and swapping my stove and refrigerator around.  That will put the massive, clunky fridge that I hate in the corner, and bring the stove out to be the central activity in the kitchen.  It's a work in progress.
Anyway, I was thinking about cooking something new.  It's been a very long time since I was able to even think that way.  I had time, I had facilities at my disposal, and I had the finances to go purchase whatever it was I needed.  So I sat down and flipped through this new issue of Eating Well, and it wasn't long before I had a whole pile of recipes I wanted to make- choosing just one was going to be tough.
The main event was pork chops on the grill.  That hadn't been the original plan that day, but this was the Friday I was getting internet hooked up.  My appointment was scheduled for the morning.  I hung around and hung around, and waited until well after one before finally calling to find out what was up.  They'd changed my appointment on me.  Now this appointment was for the late afternoon.  I'd already sat around ALL DAY waiting for my internet to be hooked up.  I had to pull the pork chops out to thaw when it looked like I had no option to run to the store.  Now I suddenly had an hour or so before my newly scheduled installation window, so I took  advantage, and ran to my favorite grocery store.  (Which is now only 5-7 minutes away depending on the lights.)
A few ingredients later, I had everything I needed to make this Roasted Beet and Barley Salad from Eating Well.  I made one small change to the recipe, and that was regarding the beets.  It called for baby beets, roasted whole with the peels on.  The grocery store had large beets, so I bought one bunch, peeled them and then cut them into 1-inch cubes before roasting.  This worked great, and to me running a few beets through with a peeler and a knife is far less messy than rubbing the skins off roasted (hot) beets.  Roasting took about 30 minutes.  Other than that, I followed the recipe to the letter.  I used toasted pecans at the very end, and this salad was absolutely amazing.  The pork chops I'd made for dinner were good, but I went back for a large second helping of this salad- and then had it again for lunch the next day.  It was very tasty and incredibly satisfying.  And though it doesn't resemble potato salad at all, with the celery, radishes and mustard in the dressing, it was reminiscent of a great potato salad.
This one is company worthy and may be making the menu this coming Independence Day weekend.  It can be made with any beets you like- red, golden or chioggia.  I think the red made the salad beautiful, but I bet it would be just as pretty made with golden beets.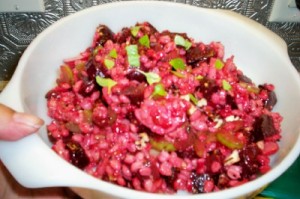 Roasted Beet and Barley Salad
from Eating Well Magazine, August 2013
1 1/4 pounds baby beets (10 to 15, depending on size) (I used 3 rather large ones) 6 cups water 3/4 cup pearled barley, rinsed 1 1/4 teaspoons salt, divided 1/4 cup cider vinegar 2 tablespoons extra-virgin olive oil 1 1/2 tablespoons whole-grain mustard 1 tablespoon honey or agave nectar Freshly ground pepper to taste 1 cup thinly sliced celery 1 cup thinly sliced radishes 1/4 cup thinly sliced scallions 1/4 cup slivered fresh basil 1/2 cup walnuts or pecans, toasted and coarsely chopped
Directions:
1. Preheat oven to 400ºF.
2. Scrub the beets under running water.  Wrap the damp beets in heavy duty foil, crimping it closed to make a packet.  Place in the oven and roast the beets until tender when pierced with a fork, 1 to 1 1/2 hours, depending on the size.  Unwrap; when cool enough to handle, slip the skins with your fingers. Cut the beets in quarters lengthwise.
3. Meanwhile, combine water, barley and 3/4 teaspoon salt in a large saucepan.  Bring to a boil over high heat.  Reduce heat to maintain a bare simmer and cook, uncovered, until the barley is tender, but still chewy, 40 to 50 minutes.  Drain well and spread out on a baking sheet to cool.
4. Whisk vinegar, oil, mustard, honey (or agave), pepper and the remaining 1/2 teaspoon salt in a large bowl.  Add the beets, celery, radishes and scallions, toss to coat.  Let the vegetables marinate in the dressing for about 15 minutes.  Add the barley.
5. Just before serving, stir in basil and top with nuts.
Makes 6 generous servings, 1 1/4 cups each.