I have a series of fruity desserts to share in the coming days, so I thought I'd better throw in something on the savory side.  I had picked up a bunch of broccoli the other day, and I wanted to do something different to it to go with some grilled pork chops and potatoes.   Very recently, Zander has become a bit more adventurous when it comes to trying vegetables- it seems that plain old cooked veggies don't appeal to him, but if I prepare them with some pizzazz, he'll gobble them up.  (Of course, by plain old veggie I usually mean cooked and then tossed with butter, sea salt and fresh black pepper, so not totally plain, but I think you get my meaning.)
This recipe does have two cooking steps to it- first we par-cook the broccoli in some boiling water, and then we roast it to perfection in a grill pan on the grill.  You probably could skip the boiling step, but I think it helped contribute to the tenderness of the broccoli.   We did enjoy this broccoli dish very much.  Zander only tolerated it- he thought the first bite was tasty, but in the end he wasn't too eager to finish the small pile we'd put on his plate.  But overall, it was a success, and I think it's a great accompaniment to a grilled main dish- especially since the grill is already going.  You do need a special piece of equipment to make this- some kind of grill basket/pan that will hold the broccoli over the fire/charcoal.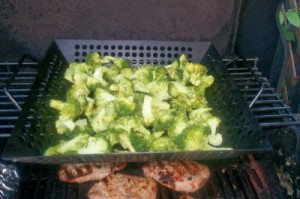 Lemony Grilled Broccoli
1 pound (or so) of fresh broccoli, cut into bite-sized florets zest of 1 lemon 1 tablespoon olive oil 1/4 teaspoon salt fresh black pepper to taste 2 tablespoons finely grated Parmesan cheese
Bring a pot of water to boil on the stove.  Add the broccoli and cook for about 3 minutes, or until the broccoli is bright green and has lost it's raw look.  Quickly empty the pot into a colander in the sink and run cold water over the broccoli to stop the cooking.  Once the broccoli is cooled, put it in a mixing bowl.
Add the lemon zest, olive oil, salt and pepper and toss the broccoli.  (Crushed red pepper flakes would also be a great addition here!)  Dump the broccoli into your grill basket.
Cook over medium flame for 5-10 minutes, tossing every 2 minutes or so.  You're looking for some browning/caramelization, but you're not looking to totally char the broccoli.
Toss the broccoli with the Parmesan cheese just before serving.