Collard greens (among many greens) are not a food that is typically found or served here in the northern part of the country.  I'm not entirely sure why that is.  I assumed that it was likely because the greens themselves didn't grow so well here in the north- not unlike okra, which is terribly difficult to get a good harvest from here. But I proved that theory wrong this year by growing a collard green plant in my garden.   It's absolutely loved the cool weather and grew to a substantial size in a short amount of time. A relative of broccoli, cauliflower and cabbage, it seems to grow just as well as its brassica brethren.  I've been watching my plant grow, and this past Monday I noticed that my plant was really shading the scallions next to it, and I decided I better find out if I even like collard greens- or if I should pull that plant out and make more room.
I harvested just a few leaves and brought them inside for a quick saute.  They went in a hot pan with some olive oil, salt and pepper, and a bit of garlic, and cooked up very quickly.  I took just one bite, and could go no further.  Oh, they were so… unpleasant.  The texture was fine- and actually, they were more succulent than other greens, so that was appealing to me.  But they had a very strong funky sulfur taste to them that just made me unable to take another bite.  I was SO disappointed, and voiced my disappointment on one of my gardening forums.  Well, a fine southern friend encouraged me to not give up.  She said that a low-and-slow braise is the only way to eat collard greens, and on top of that, she also thought I might want to try and hang onto that plant until it could be kissed by a fall frost.
Well, I'm not one to give up.  So yesterday I went out and harvested the largest leaves from my plant- it turned out to be a full pound of collard green leaves.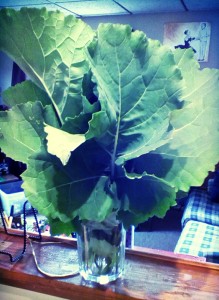 And then I went searching for a recipe.   I found this recipe for Southern Style Collard Greens on allrecipes.com and decided it would work with some adaptations.  The biggest adaptation I needed to make was that I did not have a smoked ham hock to work with.  I have four hocks in the freezer, but we got them un-smoked, thinking Andy would like to smoke them someday.  I did not think un-smoked pork would do what I was expecting to the greens, so instead I reached into the freezer and pulled out a ham bone that I was saving for ham and bean soup.
The first step to cooking collard green southern style is to make your "pot likker".  This is where my ham bone comes in.  I chopped up one large white onion and 3 cloves of garlic and added them to a stock pot with my ham bone.  I also dumped in one quart of homemade chicken-n-veggie broth.  Then I added the lid to the pot and let that simmer away on low for two full hours.  Those simple ingredients smelled so amazing, and I was heartened and hopeful that this would turn out all right.  Once my broth was ready, I removed the ham bone and picked all the meat off it that I could and put that back into the pot.   That was also when I added the greens.  I removed the large, center ribs of the leaves and chopped them up into ribbons and dropped them in the broth, along with a bit of white vinegar, sugar, salt and pepper.
We had a few more hours of cooking to go!   Again, simmering on low, I let everything cook together for one full hour, and then I decided I didn't have enough of a ham-to-green ratio, so I pulled out some ham that we'd just happened to have for dinner this past Monday and diced a bit of it up to add in.  It was maybe 1 cup of ham bits altogether.
Bare minimum, you want to cook your greens in your likker for two hours.  I gave it three, and then I went in for a very, very tentative taste.  I was literally blown away!  There was absolutely NO funk whatsoever, and the greens were tender and packed with flavor.  They were SO delicious!  If I have one complaint, it is that they were a touch salty, but I'm sure that was from all the ham I'd added on top of the salt.  For future reference, if using salty ham, I would omit the addition of extra salt with the other seasonings.
I think the family is on board also.  Andy sampled the greens, asked what they were, and when I told them, he took another bite and told me that he could totally eat more greens if they were cooked like this.  Abigail didn't care for them straight up, but didn't mind them when she mixed a few bites with some mashed potatoes.  Zander took one bite and questioned whether I was trying to poison him or not.   Honestly, I was just thrilled that he even tried the one bite!
So.  The plant stays. And now Andy has a mission to get those pork hocks smoked because I would like to try this with an actual hock, though the ham worked perfectly well with it.  Seriously, I am a collard green convert.  I cannot believe how that braise completely transformed the greens into something totally different.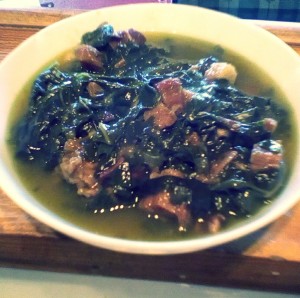 Southern Style Collard Greens
1 large onion, diced 2-3 small cloves garlic, chopped 1 leftover ham bone 1 quart of chicken stock 1 pound of collard greens 2 tablespoons white vinegar 2 teaspoons sugar salt and pepper to taste  optional: extra 1 cup of diced ham
Directions:
Add the diced onion, garlic, ham bone and broth to a soup pot and add the lid.  Bring to a boil, and then turn down the heat to the lowest it will go, while still barely boiling.  Simmer your broth for 2 hours.
After 2 hours, remove the ham bone.  If there are any meat bits on the bone, pick them off and add them back to your pot.
To prepare the greens, cut the heavy center rib out of the leaves, and then stack the leaves on a cutting board.  Roll them up tightly from the long side and cut the log of leaves into ribbons, and then give those ribbons one cut cross-wise to make them shorter.
Add the greens to the pot, along with the vinegar, sugar, salt and pepper.  If you are using a salty ham, omit the salt and add to taste later if you think it needs it.
Cook for at least two more hours- covered, and at that very low simmer.  If you are using the extra diced ham, add it in when there is one hour left of cooking.
1 pound of collard greens will make enough greens for a family of four.