This week Zander's schoolwork led him to a study of the Korean peninsula, which led to him asking if he could cook something for his end of the week activity.   I'll admit that I know very little about Korean cooking.  We actually have a very good, authentic Korean restaurant nearby, but as it is pricey, and we also lacked the time for a meal out, I spent some time looking for a small collection of recipes that he could look through.  I found a very small Korean cooking app with my Fire, and had him look through all the recipe on there.  There was only fifteen recipes, so it didn't take him long to decide on a simple chicken marinade.  When I asked him what he wanted to use the marinade on, he didn't even think twice before telling me he wanted chicken wings.  Ah, this was promising!
I made sure we had everything on hand that we needed, and he put the marinade together.  He got a nice little lesson on the difference between liquid measuring cups and solid measuring cups (hint: they are NOT interchangeable), and got to work on his whisking skills a bit.  The recipe made a good quantity of marinade, and my only regret is that we used it all on the 30 chicken wings I'd thawed for our dinner that day.  I think it's an excellent candidate for a dump recipe- add chicken and then put in the freezer for another day.
As an aside, Masterchef Junior has started back up again, and Zander is feeling woefully behind in his cooking skills.  I hope this means a lot more deliciousness coming from him!  I always like it when the kids decide on their own to do some cooking.  They are both determined to be accomplished home cooks before leaving home, but it's much more fun when they WANT to do the cooking, versus being forced to.
As for the Korean marinade, we marinated the chicken wing parts all afternoon, and then popped them in the oven for 35 minutes- turning twice while cooking.  For as simple as the marinade was, the flavor in the wings was excellent.  Andy and I both were wanting a lot more hot sauce, and I think the next time we make this, I will pull out a portion for the kids and cook those on one pan, and dose a portion for the adults with a heavy hand on the hot sauce.  Overall, this is a keeper recipe.  Andy would like to try and use it on the grill or over the fire.  My only hesitation with that is with regards to the quantity of sugar in the recipe- I worry that fire will cause the end result to be a bit on the singed side.    I don't want to reduce the sugar, but maybe next time we'll let him apply fire and see what happens.
For a gluten-free option, instead of using soy sauce, which contains wheat, look for  wheat-free Tamari Sauce, which tastes very similar without ingredients that offend the gluten sensitive.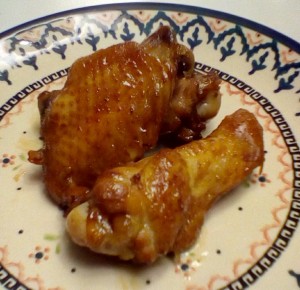 Korean BBQ Chicken Marinade
1 cup white sugar 1 cup soy sauce 1 cup water 1 teaspoon onion powder 1 teaspoon ground ginger 2 tablespoons fresh lemon juice (from half of a lemon) 1-4 teaspoons hot sauce (adjust as desired)
Directions:
Combine sugar, soy sauce, water, onion powder and ground ginger in a saucepan over high heat.  Whisk together until the sugar is dissolved and it has come to a boil.  Reduce heat to low and simmer for five minutes, stirring occasionally.
Remove from heat and let cool completely.  Add the lemon juice and hot sauce, if using.  Place chicken in marinade, cover, and marinate in the fridge for at least 4 hours for best flavor.