And I don't know why we don't see more of them!
Yesterday Abigail conducted a science experiment for her Biology course using a fresh pineapple and a box of gelatin. Fresh pineapple is full of enzymes which prohibit gelatin from setting, and it was pretty cool to actually see that put to the test.  She divided a box of lime Jello between three bowls.  One was her control with nothing added, one had a bit of freshly chopped pineapple added, and for the third bowl she cooked some pineapple on the stove for five minutes before adding it to the Jello.  A few hours later we saw the proof in the pudding, or rather, the gelatin, as the bowl with the fresh pineapple was as liquidy as when it went in.  The cooked pineapple set up nicely though, and the kids had a treat of a bowl of Jello with their lunch.
That left me with most of a whole fresh pineapple that wasn't really at it's peak for fresh eating.  I thought briefly about making an upside down cake, but then I wondered about pie. 'Tis the season after all!  Because I was using fresh pineapple, I thought that using normal thickeners might not work so well.  I was fairly certain tapioca would work, and considered using that, but in the end I decided to make a simple custard for nestling the fresh pineapple in.
I used my standard lard pie crust rolled out and pressed into a pie plate.  I popped that in the oven to get hot while I mixed everything else together.  The custard was quick and easy.  A few eggs, sugar, a pinch of salt, flour and some melted butter were all that I needed to hold that pineapple together.  The pineapple itself I chopped up into pieces that were about halfway between a tidbit and a chunk.  Next time I would cut them a little smaller so they are closer to tidbit size.  The custard and the pineapple were mixed together and then poured into the hot crust, and then I gently made sure the pineapple were evenly distributed.
Since I wasn't using a top crust, and I had also been thinking about that upside down cake flavor, I decided that my best option for this pineapple pie was to make a streusel topping.  I mean, you can never go wrong with streusel in the first place, but I thought the brown sugar crust would be exceptional with the fresh pineapple.  So a few topping ingredients went into a bowl and a became a topping for my pie.
I baked the pie for 15 minutes at 425ºF and then brought the temperature down to 375ºF to finish baking.  It smelled absolutely heavenly in here while it was baking- and then all afternoon it tantalized us when we walked past.  I've never been more hopeful that a pie would turn out!  After a series of duds in the pie department I was due for a good one, and on top of that I created this one without a recipe- I really wanted it to work!
Zander took the first bite of pie, looked at me, but didn't say anything.  Generally if he doesn't like something he takes one bite and hands the plate or bowl back.  He refused to say what he thought though, and Abigail received her slice next.  She took one bite and the reaction was "Oh my gosh." To which Zander then grinned and said "I know, right?"   We had a great discussion about how wonderful this pie would also be for breakfast, and we all concurred that it earned a spot on the Pie Hour table.  Pineapple Pie!  Who knew?
This pie really celebrates the fresh pineapple.  You could probably use canned and well-drained pineapple in a pinch, but it won't have the same flavor.  I may add a splash of vanilla or a bit of citrus zest to the custard for next time, but the way it is right now completely highlights the delicious flavor of the pineapple.  The streusel is a perfect compliment without overwhelming it in the least.  This is a great pie.  I hope you'll make it.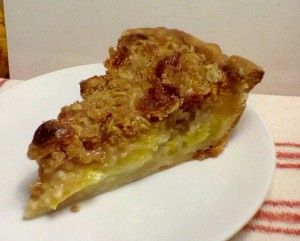 Pineapple Streusel Pie
Pie dough for 1 9-inch pie, rolled out and placed in pie plate.
3 1/2 cups freshly cut pineapple (Cut into smaller tidbit sized pieces)
2 eggs
1/2 cup sugar
1/4 teaspoon salt
2 Tablespoons all-purpose flour
2 Tablespoons butter, melted and cooled slightly
Streusel:
1/2 cup rolled oats
1/4 cup all-purpose flour
1/4 cup white sugar
1/4 cup packed brown sugar
1/2 teaspoon cinnamon
1/4 teaspoon salt
3 Tablespoons melted butter
Preheat oven to 425ºF.  Poke the pie crust with a fork in several places and then pop in the oven to get hot while you mix together the filling ingredients.
To make the filling: Beat the eggs in a mixing bowl, and then add the sugar, salt, and flour.  Mix well.  Gently drizzle in the melted butter while mixing.  Add the pineapple chunks and fold it all together.  Remove the hot pie plate from the oven and pour the filling into the crust- spreading the chunks around evenly.
To make the streusel, combine the oats, flour, sugars, cinnamon and salt in a mixing bowl.  Stir in the melted butter until fully combined.  Gently spread the streusel topping over the pineapple filling.
Bake in a 425ºF oven for 15 minutes. Reduce heat to 375ºF and bake for an additional 35 minutes.  The pie will be done when the streusel topping and the crust edges are golden brown.
Allow to cool completely before cutting.