I have used cranberries in pies before, but I have never made a cranberry pie- one that features that tart little berry in all it's glory.  I have a recipe for a Cranberry Meringue Pie, which is spectacular, and I've tossed cranberries into a pecan pie before.  Today's pie, though, uses whole berries and little else.  I had been hunting for weeks for what I thought would be the best version of a cranberry pie.  There were so many options!  Some folded cranberries into custard, some topped them with tons of delicious brown sugar streusel, and then there were others who added them to apple or pear or pecan pies.  All nice, but I just couldn't settle on one.  So of course I decided to make my own.
I started with a package of cranberries- which are now sold in 12 ounce packages instead of a full pound.  I thought about using more than just one package, but decided that a lesser amount would be just fine.  I took the cranberries and my kitchen knife and gave all the berries a coarse chop.  You could certainly use a food processor, but I didn't want bits of cranberries, and didn't trust myself to not pulse the machine "just one more time".  So I used a knife, and put the cranberries in a bowl.
Next, I zested two tiny Halo clementines into the cranberries, and followed that with a cup of white sugar, 1/4 cup of all-purpose flour and half a teaspoon of vanilla.  That's it.  I stirred that all together a few times.  Oh, it smelled so fabulous! Then I poured that into a pie crust and set it aside while I assembled the streusel topping.
I made the streusel similarly to the one I used on the pineapple pie, the changes being that I left out the white sugar and used a little less melted butter.  I really wanted to add some slivered almonds to the streusel, but discovered I was out.  The streusel went on top of the cranberries, and then the whole thing went into a 350ºF oven for 55 minutes.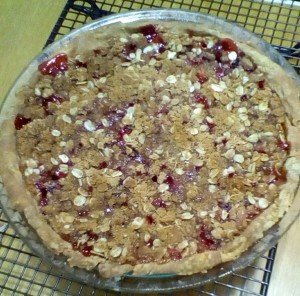 It came out to rest, and as Zander and I looked at it, he thought it needed a drizzle of icing.  He had been my consultant for this pie, as he thought he had an idea what flavors would work best, so I took his suggestion and threw together a quick icing while the pie cooled.
One-quarter cup of heavy cream, half a cup of powdered sugar and a hint of vanilla whipped together with a whisk became a thick and creamy icing that we spread all over the mostly-cooled pie.
A few hours later we all dove in and thought the pie was delicious.  And yet… there was something about it that was just a touch off.  I wondered if I should have used even more sugar in the filling because the cranberries still seemed a touch on the harsh side.  But the next day as I went back for a second slice, I was rewarded with the perfect slice of cranberry pie.  The cranberries had mellowed overnight and had merged beautifully with the streusel topping and then the creamy icing component on top.  It was an excellent slice of pie, and I waited rather impatiently for the rest of the family to go in for a sample and confirm for me that it really was that much better the next day.  They all agreed, so lesson learned.  Make this pie the day before you want to eat it.  That gives the flavors time to come together and for the astringent characteristic of the cranberries to completely go away.  This is a delicious pie, and will make an excellent addition to Pie Hour!
Note:  You could probably skip the icing here if you really wanted to.  I thought it complimented the whole thing perfectly, though it was a little strange putting it over the streusel topping.  If you decide to skip it, make sure you serve this pie up with a dollop of whipped cream or a scoop of vanilla ice cream.   It really wants that creamy sweet component to complement the tart berries.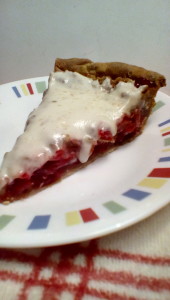 Cranberry Pie with Streusel and Icing
pie dough for one 9-inch pie 1 (12 ounce) package fresh cranberries 1 cup sugar 1/4 cup all-purpose flour zest from two clementines (Halos, cuties, etc) 1/2 teaspoon vanilla extract
Streusel:
1/2 cup packed brown sugar 1/4 cup all-purpose flour 1/4 cup rolled oats (if you want to use nuts, use the nuts instead of the oats) 1/2 teaspoon cinnamon 2 Tablespoons melted butter
Icing:
1/4 cup heavy whipping cream 1/2 cup powdered sugar 1/4 teaspoon vanilla pinch of salt
Directions:
Preheat oven to 350ºF.  Roll out pie dough and place in a 9-inch pie plate.
First, you will want to roughly chop your cranberries.  You can use either a knife and a cutting board or a food processor.  Be careful using the processor because we don't want cranberry crumbs.  At the very least what you are looking for is for every single berry to be cut in half- we don't want whole berries bursting in the pie and creating pits.
Add the chopped berries to a small mixing bowl.  Add the sugar, all-purpose flour, clementine zest and vanilla.  Mix together with a spoon and then spread in the prepared pie crust.
Make the streusel.  Put the brown sugar, flour, oats and cinnamon in a bowl and mix together.  Add the melted butter and stir until it's all combined and wet.  Spread the streusel over the cranberry filling.
Bake for 45-55 minutes, or until the pie no longer jiggles when shaken, and when the cranberry filling is bubbling through the streusel in several places.
Allow to cool on a wire rack before making the icing.
Once the pie is at least mostly cool, you can assemble your icing.  Whisk together the heavy cream, powdered sugar, vanilla and pinch of salt.  Whip it until it starts to thicken a touch and the powdered sugar is completely dissolved.  Depending on the moisture content of your cream you may have to add a little more- a teaspoon at a time until it gets to be a spreadable conistency.  Carefully spread the icing over the streusel, getting as close to the edges of the filling as you can.
Allow to rest overnight at room temperature, simply covered with foil or plastic wrap before cutting in and enjoying.