No lie.  This made one of the most fabulous pot roasts we've ever had.
Last week I pulled a chuck roast out of the freezer to thaw, but pulled it out a little late.  I was sort of planning to finish the thawing in the microwave while I debated what I wanted to do with it.  I really wanted to do the long and tedious Mom's Pot Roast, but I didn't have time for it.  Then there's the Foolproof Pot Roast, which I now make using beef broth and onion flakes instead of condensed soup.  But that was how I'd cooked up the last chuck roast and I wanted to do something different.
As I looked at the very frozen chuck roast, the thought came to me that I'd recently seen some kind of roast recipe using pickles or pickle juice, and I decided to just go for it.
This could not have been easier!
I started with my mostly frozen chuck roast.  I sprinkled it nicely with salt and pepper and put it in my crock pot.  Then I grabbed a quart of home canned pickles, removed the dill sprigs, garlic cloves and bay leaves so that all I had was pickle juice, pickles and mustard seeds.  Then I dumped that in the crock pot with the beef.  I decided to take about half of the pickles and put them under the roast.  Then I turned the crock pot on to high and let it do it's thing.
A few hours later it started to smell deliciously dilly and pickle-like in the house.  I was cooking on high because I only had 5 or 6 hours to get the frozen roast cooked.  Next time I will cook it on low for 8 hours, as my beef ended up just a touch not-quite-tender enough, and I'm sure that was because it was cooked on high instead of low.
The only problem we had with this roast is that it didn't produce anything that could be turned into gravy, but we quickly forgave it for that because it was SO crazy delicious.  Andy literally called it spectacular!
I did try a pickle from the crock pot.  That was a little strange to me.  It was hot and fall-apart, and I decided that we did not want to eat the pickles that were in the pot.  Your mileage may vary though.
I would make this for a holiday- it was THAT good.  I'm sure you can make it with store-bought pickles, but I encourage you to use one that has some goodies floating in the brine and is closer to homemade pickles than the neon green ones.  But if that's all you can get your hands on, I'm sure it will still turn out.
Yes, you'll feel really strange putting this together.  Two ingredients plus salt and pepper, and you will have a family and crowd-pleasing dish at your disposal.  Make this, you won't be sorry!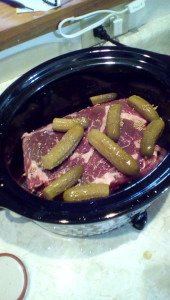 Dill Pickle Pot Roast
1 chuck roast (3-4 pounds) 1 quart whole pickles  Salt and Pepper to taste
Directions:
Remove anything from the pickle jar that is big and chunky and not a pickle.  (Bay leaves, garlic cloves, hot peppers, etc.) Put about half of the pickles into the bottom of the crock pot.
Add the chuck roast to the pot and sprinkle it liberally with salt and pepper.
Pour the rest of the pickles and all the brine over the chuck roast.  Add another small sprinkle of salt and pepper.
Cover and cook on low for about  7-8 hours or high for 4-6.  If you use a frozen roast the time will be the longer one.