During the formative years of my life I would not have considered myself a mint fan.  Oh, I would occasionally indulge in a candy cane or a stick of gum, but if you presented me with a flavor array, I never ever chose mint anything.  Mint ice cream?  Forget it.  Mint cookies?  No way.  Mint brownies?  Heathens!  Why ruin perfectly good and chocolatey brownies with mint!
Somewhere along the way, though, I have discovered a very sincere fondness for mint and chocolate.  Peppermint mocha? I cannot get enough!  Brownies with peppermint in them?  We've come a long way baby.  So long that I now only make my Peppermint Fudge Brownies for bake sales because, I kid you not, if I have them on hand I will literally sit and eat the whole pan.  You know how they say no bite is as good as the first bite?  Not here.  Every bite makes my taste buds tingle and causes my eyes to roll back in my head.  They really are that good.
They are so good that I've long debated sharing the recipe because they really are bakery quality.  This year as we were wrapping up the over-sized brownies for the bake sale I mentioned to the kids that I need to come up with a second bar that I can perfect in the same way so that we can present a variety when the bake sale requests come knocking.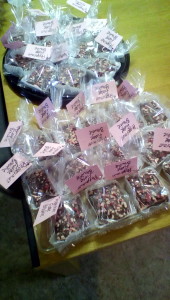 One note about the peppermint oil.  I have many friends who are into the essential oil business.  I am not, as I am allergic to many, but I do have peppermint, orange and lemon essential oils from my friends.  The peppermint oil is worth every penny.  Just a few drops transforms my brownies into magic.  You may need to play with the number of drops to find your perfect amount, depending on the oil you've used.  I have DoTerra oils on hand, and their quality is far superior to the peppermint oil I've bought in the candy-making department.  But use what you have on hand, you just may need to add a few extra drops- you could also use extract, I'm sure, but I'm not sure on quantity there either.
You will also notice a different ingredient in the brownie portion of this recipe.  The malted milk powder.  Trust me on this one. The malt works like coffee- it adds a depth of flavor that you don't notice as a malt flavor.  It also contributes to the texture of the brownies.
To garnish the brownies I prefer to use Ande's Peppermint Crunch bits, and I tint the frosting pink.  You can use whatever you like here, and opt for tinting the frosting green if you prefer.
This recipe makes a sheet pan of brownies, so it makes a lot.  But you'll want a lot because they are so good you'll want to share.  Or you'll want to hide in a closet and eat them all yourself.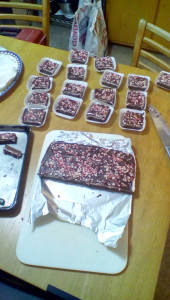 Peppermint Fudge Brownies
Brownies:
2 1/4 cups all-purpose flour
1/3 cup plus 2 TBS malted milk powder
3/4 teaspoon salt
3 sticks butter
6 ounces unsweetened chocolate, cut up
3 cups sugar
6 eggs
2 teaspoon vanilla 5 drops peppermint essential oil 1 cup chocolate chips
Frosting:
3/4 cup butter, softened 3 cups powdered sugar 1/4-1/2 cup half & half 1/2 teaspoon vanilla 4 drops red food coloring (or green) 6 drops peppermint essential oil
Chocolate Glaze:
1 1/2 cups semi-sweet ( or dark) chocolate chips 9 TBS butter Peppermint Crunch bits or chopped Ande's candies for topping bars
Directions:
Preheat oven to 325ºF. Lightly grease a sheet pan OR line with non-stick foil and lightly grease the sides of the pan where the foil didn't reach; set aside. In a medium bowl, combine flour, malted milk powder, and salt; whisk together and set aside.
In a medium saucepan, combine butter and chocolate; heat and stir over low heat until chocolate melts. Remove from heat, stir in sugar. Using a wooden spoon, beat in eggs, one at a time. Add vanilla and peppermint oil. Stir in flour mixture, followed by 1 cup of chocolate chips. Spread batter in prepared pan.
Bake in preheated oven for 30-35 minutes. Cool completely in a pan on a wire rack.
Once completely cool make the frosting.  Combine the butter, powdered sugar and 1/4 cup of half & half in a bowl.  Use a hand mixer on low speed to combine.  If it's too stiff you will need more half and half.  If it's too loose, you'll need to add more powdered sugar, 1/4 cup at a time until it's a consistency you are happy with.  Add vanilla, food coloring and peppermint oil.  Mix well.  Taste, and adjust the peppermint oil if needed. Spread all of the frosting all over the cooled brownies, edge to edge.  Set aside, uncovered, to give the frosting layer time to set up.
Make the chocolate glaze.  Combine the 9 tablespoons of butter and 1 1/2 cups of chocolate chips in a microwave safe bowl and heat for one minute.  Stir with a spoon until completely melted and combined.  Microwave it further, 30 seconds at a time, if needed.  Set the glaze aside until it is no longer hot and at room temperature, but still liquid and spreadable.
Working quickly, spread the chocolate glaze over the whole pan of bars.
Sprinkle with garnish and allow the chocolate to set completely.
Wait an hour or so before cutting into bars and enjoy.