A trend I've noticed among food blogs as of late is a gravitation towards foods that are regarded as "simple".   It's definitely not a new concept- for years there have been cookbooks and blogs and magazines touting the 4, 5, 10 ingredient recipes.  But it's prevalent right now, and for good reason!  Fall finds people thrust into the busy-ness of school, extra-curriculars, work and all the other extra things life throws into the ring just to keep it interesting.  Our family is no exception.
One thing I've had to learn this summer is how to balance life with a job outside the home.  Mid-May of this year I decided to look more seriously into the idea of working outside the home.  As my kids get more and more independent with their schoolwork each year, I find I have more time in the mornings that I could put to something productive outside the home.  Funny thing though, when I went looking (and interviewing), NO ONE, and I mean NO ONE, wants to hire a former retail manager for just a few hours in the mornings during the week.  In fact, I had one interview where I was told I was flat out unrealistic in my expectations.  Huh, that's funny, because there is a major worker shortage in the retail world, and when I was a manager, my best employees were the stay-at-home moms who worked just a few hours in the morning when they were not busy with children.   And while I maintain my status that I've never interviewed without being offered a job, I did have to turn a prospect down because I could read between the lines and saw all the requests for my time outside of what I had initially offered.
Which works out well, because in the end, I decided to see what it was like to get up very, very early in the morning and deliver newspapers.    The first day I woke up at 3:30 am I thought I was insane.  By the fourth day I wanted to cry.  I was SO freaking tired.  But that was the day I signed the contract to take the route as mine despite how tired I was.   They were willing to work with my summer commitments, and the best part was that I would be out of the home in the early morning hours before it could ever affect anything about the day-to-day life with family, church, dance and everything else.  But let me tell you, it took me most of the summer to really figure out that balance of sleeping and not sleeping.  I suddenly found myself crawling into bed between the hours of 8:00 and 9:00pm- earlier if I could swing it.  But as the days went on, I discovered that most days, I could zip through my route and be back home and back in bed before 5:30 am- where I could sleep a few more hours when I felt like I needed it.  The return is that if I stay on task, my hourly rate is in the $14-$15 range- which is way better than any department store or mall rat job could have offered.
One of the things that suffered as summer went on was dinner time.  Trying to find that balance of sleep/no sleep/caffeine took a while, and I learned very quickly that working moms have it HARD.  At the end of the day, when 5:00 pm rolls around, I'm already thinking about sleep and bed and getting to that point in the day, the last thing I wanted to do was make dinner!  I felt like I was eating a lot of crow, because even grilling some chicken breasts to top a salad took SO MUCH WORK some days.  I was thankful for take-out pizza too many times to count, and Costco chicken came home quite a few times as well.  I started to pay attention to those mail order meal kits- they sure sounded great to me because it didn't require any brain power on my part to have meals sent to us week after week.  I was THIS close to trying some out- and I still have the coupons hanging around here just in case- but round about the middle of August something clicked inside of me.  All the sudden, after nearly three months of trying to figure this out, it seemed that physically I'd become used to the new way of life for the time being.
It was just in time too! Because that was when the tomatoes ripened all at once, and I had to dive into getting them prepared and preserved for later use.   I may share about this year's tomato sauce adventures at some point, but what I really wanted to talk about today was the crazy simple tomato dish that we all greatly enjoy every time I make it.  And I'm making it often because I have twelve different cherry tomato plants in the garden and they just keep on giving me more tomatoes!  On any given day I can walk outside and walk back in the house with this at hand: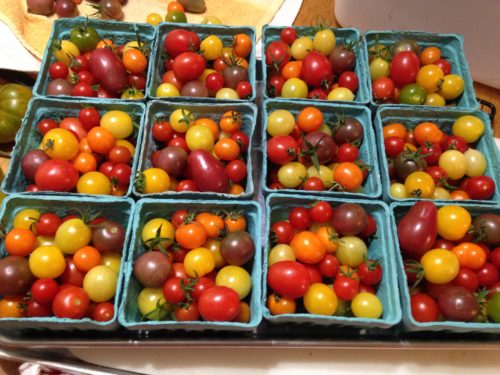 So, so good, and we sure eat a lot of them out of hand, as well as sharing them with friends, neighbors and church family.   But one can really only eat so many cherry tomatoes before they soften and need to be composted.   In years past I've sliced them and dehydrated them, but the kids have confessed that they don't really care for that sun-dried tomato flavor much, so I wanted to do something else with them.  And here it is: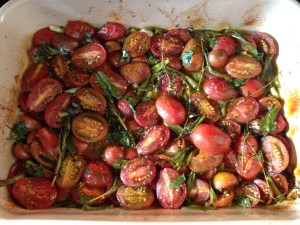 Cherry tomatoes, tossed with whatever fresh herbs have been gathered from the garden, olive oil, salt and pepper, along with a few cloves of smashed garlic, and roasted in a 375ºF oven for 35-40 minutes or until fragrant and soft.
It will drive you insane while it cooks!
The version posted above is made with two of my purple colored cherry tomatoes- Evan's Purple Pear and Black Cherry, adding a level of richness to the dish that I really liked.
While the tomatoes roast, you decide what to do with them when they are done.  So far we keep defaulting to tossing them with spaghetti.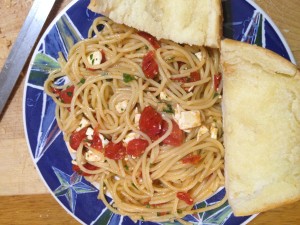 One night we added feta cheese, tonight we added Asiago- both were equally delicious.  Tonight we also had some lovely garlic-herb crostini, and scooping a glob of roasted cherry tomato onto that was an amazing experience all by itself.
It's just so simple, but not simple like, open a can of soup with a can opener and add water.  It did take a little bit of effort, but mostly it was passive effort on my part.  When tossing with pasta, I highly recommend holding out half a cup of the pasta cooking water so you can add some body to the sauce if needed.   Roast your tomatoes until they look like my picture above, then toss with hot cooked pasta.  Add a dribble or two of pasta water and toss.  Serve immediately, sprinkled with fresh parsley and/or shredded cheese.
I plan to make this again so that I can take the roasted cherry tomatoes and just tuck them into the freezer.  I think they'd also make a spectacular topping for a flatbread pizza with some fresh mozzarella.
Make it.  I promise you won't be disappointed.