Earlier this week I was flipping through the most recent issue of Real Simple magazine when I stumbled on a recipe for a Slow-Cooker Shepherd's Pie. The picture was enticing.  It looked like a pile of mashed potatoes surrounded by a beef stew, and that stew looked luscious!  I read the recipe through a few times and had questions.  One of the more interesting aspects of it is that you combined the beef and vegetables in broth, and then you nestle whole, peeled potatoes in the broth.  Once cooking time is up, you remove the potatoes and mash them up to be a separate component.  It's an interesting idea.
The thing about that is, though, honestly, one of my least favorite things to eat is potatoes that have been cooked with beef.  I don't know why that is, and I'll eat them, but I don't care for the flavor of a potato that has been cooked with a pot roast, or in a pot of beef soup, or tumbled into beef stew.  They are my least favorite bites of the whole meal.  But when I saw this picture of the mashed potatoes surrounded by stew, the wheels started turning.  Just last weekend I'd made a roasted chicken dinner and a large pot of mashed potatoes accompanied.  Those leftover potatoes have sat in the fridge all week, just begging for an opportunity to be put to use before they expire.
Another thing about the recipe in the magazine that I was hesitant about was the fact that it called for a cup of dark beer as an ingredient.  I've cooked with beer from time to time, and usually you can't pick it out at the end, but I wasn't entirely sure that using beer in the crock pot was going to be the best idea when 3/4 of my family does not like the taste of beer.  On top of that, Andy didn't really have anything on hand that I thought would have the same profile as a cup of Guinness would.  So I eliminated the beer and reduced the volume of liquid overall.
When I went shopping for the beef to put in the stew, the recipe called for a chuck roast, cut into pieces. My intention had been to pick up a chuck roast, but right there next to the chucks was a large package of stew meat with a reduced sticker on it, so I went for the stew meat instead.  Hey, it was already cut up and prepared for me, I like that when I'm popping things into the crock pot to cook all day!
And finally, when all was said and done, I totally forgot to add any frozen vegetables as the magazine indicated.  They called for frozen peas for the last five minutes or so, and it just completely slipped my mind, so we didn't have any extra veggies in the stew.
And honestly, it didn't need it.  For being such a simple assembly of ingredients, this stew was delicious!  I already have an Oven Baked Stew that I really like and make often, but I have to say, I think I liked the flavors of this one even better, in spite of its simplicity.
And the whole idea of serving beef stew over mashed potatoes?  This was genius.  It was so homey and comforting.  I would make mashed potatoes from scratch just to do that again.  I don't think I would take the magazine's suggestion and cook the potatoes in the stew itself, just on the stove like any other time I make a pot of mash.  But do it again?  Most definitely.  This may be my new favorite beef stew- and way to eat it.  Because you know how you have a bowl of beef stew and you usually need some fresh bread or rolls to help you sop up the gravy left on the plate?  The potatoes do that for you in this case, and it's just so much more delicious.  Like an elevated mashed potatoes and gravy.
I changed the recipe so much from its original version, that I am posting my new version below with a new name.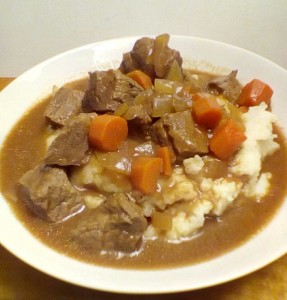 Simple Slow Cooker Beef Stew
2 pounds beef stew meat 4 large carrots, peeled and cut into 1-inch pieces 1 large onion, peeled and diced 1 1 /2 cups beef broth 3 tablespoons Worcestershire sauce 2 tablespoons tomato paste 1 teaspoon salt 1/2 teaspoon freshly ground black pepper 2 cups frozen peas (optional)
Directions:
Combine all the ingredients in a 4 to 6 quart slow cooker.  Cover and cook on low for 7 to 8 hours.  Stir the frozen peas in about ten minutes before serving to give them time to cook through- if you are using them.