We're officially in testing mode for some new pies for our Thanksgiving Pie Hour tradition.  I have a nice list of pies to try over the next few weeks to see if they are good enough to add to the annual spread.
The first pie we tried is not actually in contention to be on the Pie Table, as it turns out.  Someone else has offered to make pumpkin pies, and since this one isn't that different from a standard pie, it won't be in attendance.  However, it is very delicious and I would make it again in a heartbeat.
Buttermilk Pumpkin Pie utilizes tangy buttermilk instead of the evaporated milk usually called for in your standard pumpkin pie.  I thought the tang would be a fabulous addition, and I was absolutely correct about that.  This pie tastes like caramelized pumpkin.  It's got the right amount of sweetness and the texture has just a touch more heft to it than a standard custard pie.  The blend of spices is nice.  Too often cloves or ginger can overtake a pumpkin pie and give a bitter taste. This pie solves that problem by leaving them both out entirely.  A bit of allspice and a bit of cinnamon are all that is used.  The result is enough of those spices to give it a warmth, but you can't sit and pick out what spices are used.  It's brilliant actually- this pumpkin pie is really all about the pumpkin and making it the star.
As I was baking it, I was waiting for it to firm up- you know how with a custard pie you give it a gentle jiggle in the oven to see if it still moves around at all.  Well, I did that and there was a bit of a jiggle to it.  My first thought was that it wasn't quite done, but when I grabbed a knife and stuck it in, it came out perfectly clean.  So do the knife/tester check and do not rely on appearance to tell you this pie is done baking.
This came from Food Network Magazine originally.  I did not follow the crust portion of the recipe- I simply used my standard lard based pie crust and all was well.   I'm not totally understanding this year's trend of every pie recipe in every magazine using a different recipe for the pie crusts.  What ever happened to one crust recipe, eight pie options for filling them?
Anyway, this Buttermilk Pumpkin Pie is delicious.  We didn't even have any whipped cream on hand to add to it, and we all still enjoyed it.  It was a delicious dessert and a delicious breakfast and I will definitely be making it again.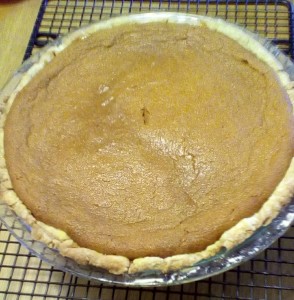 Buttermilk Pumpkin Pie
1 disk of pie dough for a 9-inch pie, rolled out and placed in a pie dish 1 (15 ounce) can pumpkin puree
1 stick unsalted butter, melted and cooled slightly
2 large eggs
3/4 cup packed light brown sugar
1/4 cup white sugar
1/4 teaspoon ground allspice
1/4 teaspoon ground cinnamon
3/4 cup buttermilk
2 tablespoons all-purpose flour  
Directions:
Put a baking sheet on the middle oven rack and preheat to 375 degrees F. Line the crust with foil, then fill with pie weights or dried beans. Transfer to the hot baking sheet and bake until lightly golden around the edge, about 20 minutes. Transfer to a rack, remove the foil and weights and let cool completely; leave the baking sheet in the oven.
Meanwhile, make the filling: Whisk the pumpkin puree, melted butter, eggs, brown sugar, granulated sugar, allspice and cinnamon in a medium bowl until well combined. Add the buttermilk and flour and whisk until smooth. Pour into the cooled crust and return to the hot baking sheet in the oven. Bake until the filling is set, 50 minutes to 1 hour (the top may crack slightly). Transfer to a rack and let cool completely.