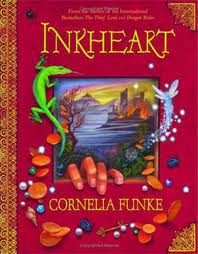 By Cornelia Funke
I've debated whether I should review these books all together as a trilogy or separate them, and review Inkheart alone, and then Inkspell and Inkdeath together- because that's how they read.  Inkheart, while it left the reader wondering at the end, could stand alone as a great book.  Inkspell is nothing without either its prequel or its sequel, and if someone tried to read Inkdeath alone, well, they would be extremely lost.
So I'll just review them as a whole.  Or try, anyway.
I read Inkheart in an afternoon in the dead of winter.   I had actually seen the movie over a year before, and really enjoyed the movie.  Of course, I wondered about the book, but honestly, it was junior fiction- not something I dig into unless I'm reading with the kids for school.  But curiosity got the best of me, and one day it followed me home from the library.
It sucked me right in, and it was a very quick book to read- as I said, I read it in an afternoon.  The story was like nothing I'd ever read or even thought of before.   We meet our heroine, Meggie, and her dad Moe, who definitely seem like the odd pair of people.  Moe repairs books for a living, but both of them love curling up with a good book over and over.  Books are dear friends to Meggie.   As the story progresses, we learn that years ago, Meggie's mother disappeared while Moe was reading a book aloud- and we discover that Moe is one of only a few people who can read stories to life.  When we reads the written word aloud, characters and beings literally can jump out of the pages of a book- but only at a price- something from our world must swap places and go into the book.   Meggie's mother is lost somewhere in the world of Inkheart.
A fabulous adventure ensues as one of the main characters that Moe read out all those years ago, Dustfinger, searches him out- desperate to be read back into Inkheart- where his beloved still is.  Of course there are evil men who want to use Moe's ability for their gain, and we all wonder if Meggie will ever be reunited with her mother if Moe refuses to ever Read again.
I dare not say much more, as I don't want to spoil the story for anyone.   We meet so many people along the way- charming characters, and not-so-charming.  We learn to hate several of them- and I was literally on the edge of my seat for the last few chapters of Inkheart.  And then I just HAD to get the other two books.
Where Inkheart was a quick read- and definitely in the junior fiction category, I hesitate to place the other two there.  For one, they do not read so quickly.  In fact, I took quite a few days to read both Inkspell and Inkdeath.  There was so much going on, that they were the kind of books that I literally needed to set them down and think about what was going on.  In a way, that was also a means to savor the story, but I did find myself turning back a few pages at times- and re-reading what had just happened to make sure I got it.   Not only did these ones read more slowly, but they also read more darkly.  Let me explain.
When I read Inkheart, if there had been a soundtrack playing during the reading it would have been light, and bright.  Oh, there would have been moments of danger music or some evil tones as the villain Capricorn was on the pages, but for the most part, the soundtrack would have been light and melodic.  For the second two, the tone changed.  The evil, minor-toned music took center stage, and at times, it almost seemed as if the books were just oozing from the darkness.  Cornelia Funke writes the dark side very, very well.  There were even plenty of times where characters seemed to cross over from hero to villain and back again.  One minute you loved Dustfinger, the next minute you hated him.
They were spectacularly written.  Really, which is why I would not categorize Inkspell or Inkdeath as junior fiction- they didn't read like it at all.  You can literally see the author come into their own, as Inkheart was a wonderful, wonderful story, and then it's like she totally blossomed and really developed herself as an author coming up with the other two books.
I loved these books, and they will eventually become a part of the home library.  I can't wait until Abigail is old enough to dive in.  The whole concept of the importance of reading the written word aloud to bring it to life is something that has stuck with me ever since I read these.   Even though I found the second and third books to be more dark than anything, they were still very, very enjoyable, and when I wasn't reading them, I couldn't wait to dive back in.
If you are a fan of fantasy, these really are a must-read.  The world of Inkheart is rich and imaginative, and who wouldn't want to think about themselves being read into the pages of their favorite books?  These books are definitely a favorite.