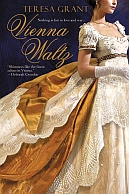 By Tracy/Theresa Grant
I picked up and put down this book about six times at the library. I love historical fiction, but I have read very little about the time this particular novel is set in. Napoleon has just been exiled, and the 1814 Congress is trying to decide what to do with the many pieces of Europe.
What really made me put it back down was that I was concerned that it had the potential to be trashy- that was not at all what I was looking for. I knew there would be intrigues and love affairs, but I didn't want the love affairs to be descriptive. I was not disappointed.
This book was refreshing. It was loaded with intrigue and romance, but none of it was described in any kind of offensive manner. We learned of the many affairs of the people at court, but we never had to witness any of the action.
The one complaint I had about this book was that it took a very long time to get the cast of characters straight. There were so many Princes and Princesses, and it seemed like every single person had the potential to have caused the murder of Princess Tatiana. Who did cause the murder? We join Malcolm and Suzanne Rannoch as they seek to discover exactly that. Along they way they uncover many different secrets and plots, and just how well did Princess Tatiana know Napoleon? Could she have been plotting some kind of treason to restore him to his former glory?
This was a very enjoyable read, and as I dug in to learn more about the author, I was surprised to find that other books have been written about our heroic couple, but they had different names. I will definitely be seeking them out. Ms. Grant is also working on the sequel to Vienna Waltz, and I look forward to seeing what new intrigues await the daring couple.