By Reagan O'Neal
aka Robert Jordan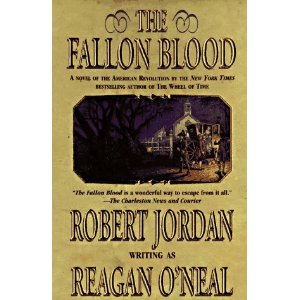 I picked this series up at the library simply because of who the author is. Robert Jordan has written my most favorite book series of all time, The Wheel of Time. He writes beautiful fiction, and I was really intrigued to see how he wrote early American History.
I was not disappointed. These books were wonderfully written, and sucked me right into the story from the get-go. The first book in the series is The Fallon Blood, which is during the time of the Revolutionary War. The second book, The Fallon Pride, follows a second generation of the Fallon family during the war of 1812. And finally, the last book, The Fallon Legacy, takes the third Fallon generation to the state of Texas, and it's fight for independance.
One of the things I really, really loved about these books is that though they were fictional, and followed fictional characters, they were historically accurate. We met actual historical figures and learned a lot about the wars from a different point of view. It was incredible, and very obvious that the author did their research on these tumultuous wars.
What surprised me about these books was the frankness with which they were written, to be honest. I realize it's not fair to compare a fantasy series like Wheel of Time to this historical fiction series, and yet, I found myself doing that just a tad. The Wheel of Time is a really "clean" series, for lack of a better word. There is no sex, no cussing, and the dubious behavior is done by villians. It's pretty cut and dried good vs. evil, and it's a series that I could recommend to my mother to read with no reservations (if you know what I mean). With the Fallon series, well, let's just say that I was a bit shocked when it came to the, uh, escapades of the Fallon family- and others in the books as well.
I really enjoyed this book series. I loved how each book took one of the generations of Fallons and followed them through. I came to love that family and the trials and tribulations that came with Michael when he first immigrated from Ireland to America. I felt like I was cheering him and his success on, as well as the subsequent generations.
Overall, I recommend these books, if for no other reason than they paint a brillain, accurate portrayal of war in the southern states at that time. Just be warned that there are most definitely bedroom scenes in the books, as well as murder, deception, and all kinds of intrigue that makes the story mysterious as well as adventurous. I would definitely read these again.