Wow!  Looking at the pictures from my last post, and looking at today's garden- so much growth and change in just ten days!  Gardening is incredible!  Since I last posted, we've had salad after salad from the assorted lettuces, spinach, and baby chard in the garden.  Good thing we did, because the spinach is bolting.  For now, I'm letting it go to seed- I've never done so, and am curious how long that process takes.   Andy also enjoyed all the radishes, so lettuce has been sown in that spot, and the turnips were also pulled out.  I had pulled two baby turnips to see how they were doing… wow, they were hot and bitter and unpleasant.  With it warming up outside, I decided to give that real estate to someone else.  So I pulled what was there, and sowed a mesclun salad blend.   I may try turnips again as a fall crop.
But the biggest change in ten days is that Andy brought me some fresh straw to mulch between the beds with.  It looks incredible, as you'll see in the picture tour below.  I have not been to the community plot once this week.  I really need to get over there, but the weather has not been cooperating.
Today's pictures have not uploaded in order.
First a close up of Mr. Fatalii.  Peppers galore.  I still have a quart of these in the freezer from last fall.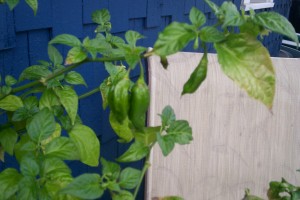 And then a bowl of garlic scapes.  This is my second harvest of these this week.  The first round I turned into pesto and tossed with homemade noodles.  So delicious.  This is a bigger bunch than what I harvested earlier this week.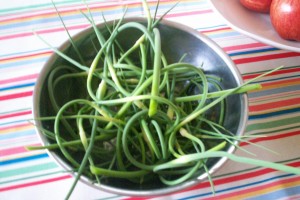 The basil and dill.  Not dead, but not thriving either.  Today I fed them some Tomato Tone.  Ideally I should get some compost worked in here.  But at least they're still growing.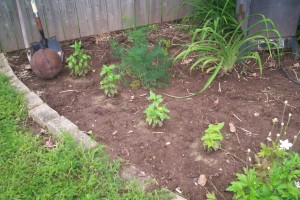 The tomatillos are doing great!! One of my plants has flowers, and at least a dozen more buds waiting to blossom.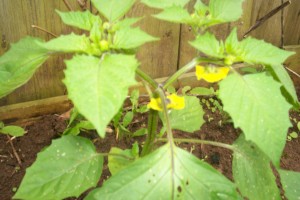 They're still pretty small plants, but they took to their new home instantly.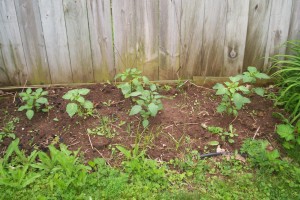 Ah.  A nice view of the home tomato patch.  You can see my straw in here- as well as the healthy green tomato plants.  Quite a few are sporting blossoms already!   So far they also all have very strong main stems.  Nothing is flopping over looking for support.  I'll need to get on that soon, but so far, the patch is doing amazing!
The garlic patch, sans the scapes.  Some of the very bottoms are just starting to turn brown.  That means the countdown begins for the garlic harvest!  I expect to pull the bulbs sometime in July.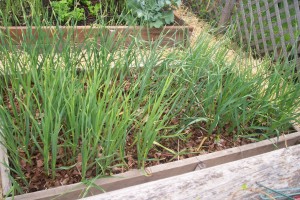 Let's see.  This is the bean bed.  With the eggplant in the front right corner there.  Something keeps nibbling on the eggplants- I suspect mice, as we had some in the garage.  But keeping them sprayed with hot pepper spray and cayenne pepper powder seems to be helping a lot.   If only it would stop raining and washing those off!  Some of the beans have been slow to germinate, but they're doing well for the most part.  One of the purple jalapenos in here is loaded with buds about to blossom.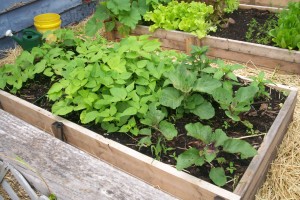 Here you can see where the turnips were.  Hopefully pulling those turnips out will encourage the scrawny carrots.  This was where I planted the mesclun mix.   You can also see the blue hubbard squash on the far left really taking off.  I think I need to go out and actually tie some of the plants to the support to encourage them to grow in that direction.  The lima beans are also doing well- I have a close-up a little further on.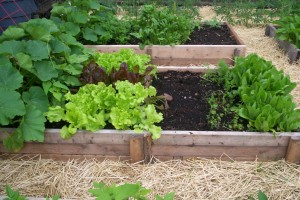 The patch that almost wasn't.  On the left you see the scallions, then the celery, then some leeks, and then the monster broccoli plants.  behind the broccoli are a few red kale plants that are chugging along as well.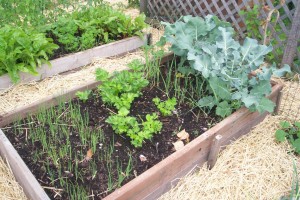 But what's this?  Actual broccoli!!  Three of the plants are sporting heads- one of them looks about ready to harvest.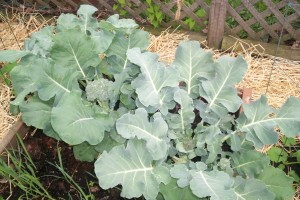 And here are one of the zucchini plants- doing great!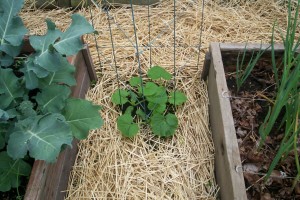 Ah, the snap peas.  We are treading a fine line here with these.  They finally have started putting out blossoms, but the bottoms are starting to turn brown.  It will be a race to see if we can get a taste of peas before the vines succumb to the heat.  Fortunately, we've had a cool couple of days here, so that should help a bit.  The chard, carrots and beets in front of the peas are doing great.  Still no bulbs on the beets though, I'm watching for that.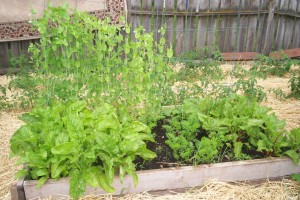 Here you can see where the radishes were.  Some of the lettuce I put in here this week is just starting to sprout.  The spinach is in the middle- already sporting flowers on some of the plants.  That didn't last long.  The carrots in this bed are doing well- as is the butternut squash on the far left end.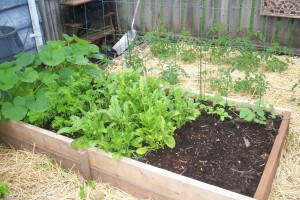 A backside view of the same bed.  You can see the cucumbers there along this edge next to the trellis.  Every 12 inches is a different variety of cucumber.  This is been a battle with squirrels to keep here.  They keep wanting to dig here, so I keep sprinkling the cayenne.  I think I'm winning…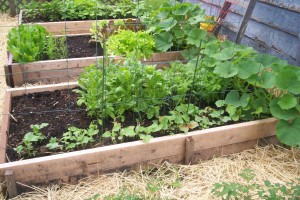 And here is the back of the pea bed.  You can see the beginning browning of the peas with this angle.  Also, to the left of the peas are three more varieties of cucumber.  I sure hope they do well this year!  I have some really unique varieties that I am dying to try out.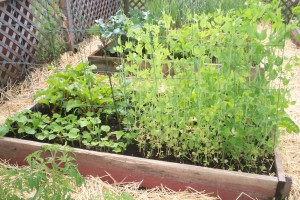 Tomato blossoms.  :)  This just happens to be my German Red Strawberry plant.  Loaded!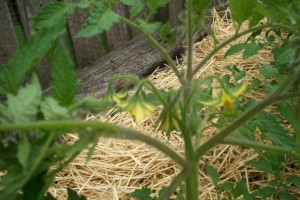 Oh, here is the close-up of the lima beans next to the hubbard squash.  The lima bean plants are putting out these long tendrils… The package said they were a bush habit variety, and I'm leaning towards not believing that.  I have to decide quick what to do.  The first step will be to tie the squash to its trellis- I will use some of my daughters dance tights that are full of holes.  Super strong, but gentle on the plant.  Then I think I'm going to need to get some poles or something in for the lima beans- I'd really like to see them do something!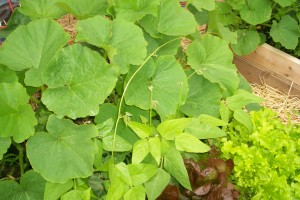 And it looks like we wrap up today's tour with another shot of Mr. Fatalii.  The leaves don't look this yellow in person.  There are probably hundreds of buds on here waiting to open up.  It's turning into a tree!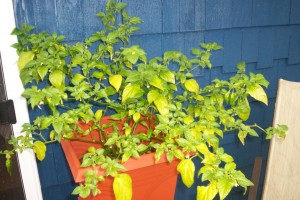 I love how fast everything changes this time of year.  :)  And it's been pretty incredible to be eating salads from the garden that has only been growing for a little over a month now.  It's amazing how nature catches up to where it's supposed to be growth wise.
Filed under: Wisconsin Gardening on June 21st, 2014 | Comments Off