When I finally sat down this year to sow seeds, I faced a serious dilemma.  I had no idea if I would have extra space to garden this year, or if I'd have what was here in the backyard.  Obviously, I have plenty of space here at home for a decent garden, but I really want to trial all kinds of new tomatoes, peppers, and eggplant this year.  In the end I decided to just go for it.  If I didn't get in at the community garden, this year's garden would be devoted to these plants, with just a small space for a few lettuces and carrots.
Fortunately, that desperate planning was for nothing, as I was notified last weekend that I DO get a plot at the community garden across the street.  Across the street!!! My biggest problem with the last community garden plot was that I had to physically get in the car and drive to it several miles away.  It was hard for me to find the time to do it. But across the street?  All I need is a garden cart to haul things back and forth and I'll be set for the season.  I finally got over yesterday to look at my plot.  Oy, I have some work ahead of me to get it ready to plant in, but I'm very excited to do so.  It's wonderful knowing that all of my plants will have a home this year.
Speaking of plants.  Check this out!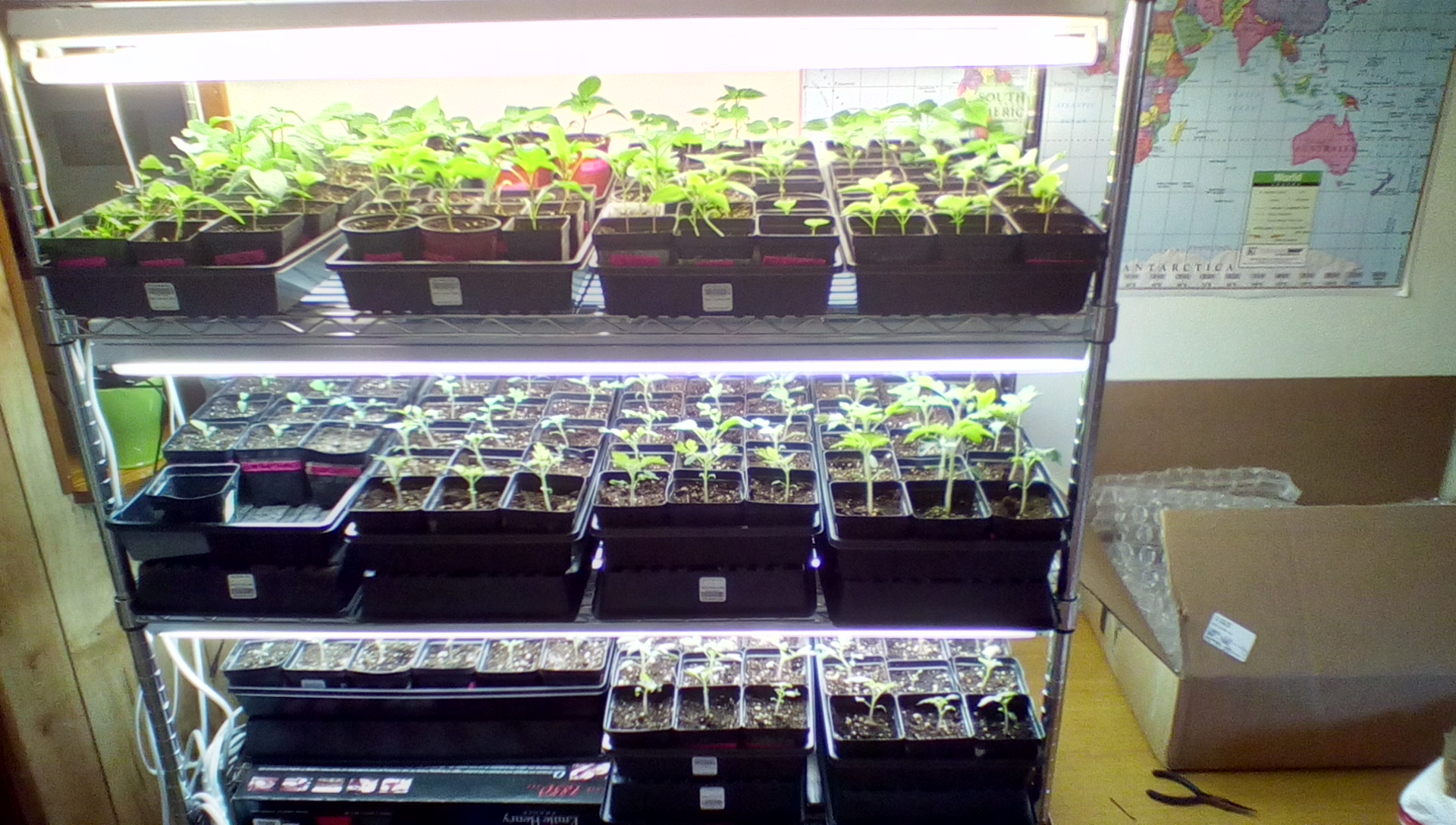 The top shelf is still my peppers, first round of eggplant and a few brassicas that want to go outside.  They are really thriving up there, and not growing too fast either.  I've been watering an average of once a week. The light goes off overnight, and during the day the ceiling fan is also on.  I rotate the trays every couple of days as well so they all get a turn closer to the fan.
The second two rows are my tomato plants and the second round of eggplants.  You can tell the tomatoes on the middle shelf have had an extra week in the dirt over the bottom shelf of plants.  They're coming along nicely.  For the first few weeks I kept the lights over the tomatoes on all the time, but now that the plants are healthy and established, I am turning the lights off overnight as well.
Of all the plants I transplanted out of the starter cells, I had one pepper plant die and only one tomato didn't make it.  I even had one tomato that the stem snapped… I carefully tipped it over and tucked the separated part in the soil, and it must have rooted from there, because it's alive and well.  The one tomato that didn't make it I had a duplicate of, so all is well.
Germination was spectacular this year.  Out of the 62 varieties of tomato I sowed, only 2 varieties didn't sprout at all.  Unfortunately, in my careful mapping and crossing off, a third variety never made it to get potted up.  The sprouts were there, but for some reason I'd crossed that one off, so when I did the final potting up, I assumed I already had that plant under the lights.  I didn't realize my error until I was rearranging plants yesterday, and by then it was too late, as I'd composted the extras.
With the eggplants I had four varieties that never came up- and two of those were brand new seed, so that was disappointing, but I have high hopes for the 13 eggplants I do have.  I cannot wait to come up with new ways to use this vegetable.  It's become a favorite of mine, and I'm especially hoping to figure out a way to freeze it to use year round.
Anyway, later today my dirt is arriving to fill the beds here at home, and then it gets really real!  I'm about to go put the brassicas on the deck for a few hours to start hardening off.  I'm hoping to find time this weekend to get some lettuce seeds in the dirt, but first we have to get the dirt IN the gardens.