I've heard it said that it can take a good 3 or 4 years to really get new garden soil to where it needs to be for the most productive gardening.  This year was a glimpse of that.  While I didn't have a great year, production wise, I got at least a taste of almost everything I planted this year.  There were a few that were particularly great for me- whether because they had a great taste, or they were productive, they likely earned a spot in next year's garden.
I actually was able to start picking a few early tomatoes towards the end of July this year.  And by the second week in August, I was going out for daily pickings, and coming in with quite the handful.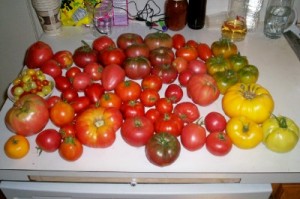 I am happy to report that this year I did not need to purchase any tomatoes from elsewhere.  I made all my salsas with my own tomatoes, and also managed to get a few quarts and pints of plain old canned tomatoes on the shelves.
One of the first to really ripen up this year was my Black Krim tomatoes.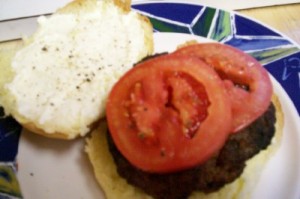 I have overlooked this one in the past, and will not do so again.   It was one of the first to ripen in the first days of August- and I still was harvesting from this plant at the end of September.   And this plant happened to be in my one tomato bed that had some kind of fungus problems.   I am anxious to see how Black Krim does next year in a better location.
Northern Lights is one I've wanted to try, but I've had terrible luck getting a plant in the ground the last few years.   Now I know what I was missing!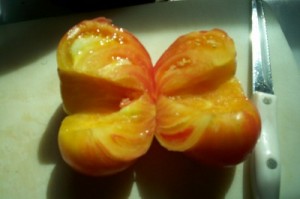 This gorgeous bi-color tomato was insanely productive!  It produced big fat slicers that we devoured on BLT's and other sandwiches.  Nicely juicy, and they had a great tomato flavor.  I would frequently find myself snacking on these ones.
Black Ethipian was a huge stunner!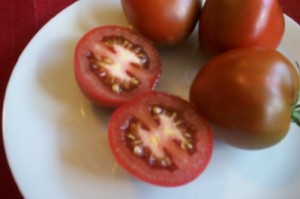 I got this plant from Minnesota, and promptly saved seed.  Apparently these were resistant to cracking, because there was literally none that cracked at the end of the season.  A deep purple, almost brown tomato, these had a lovely deep flavor, and were quite productive as well.  These are a plum sized tomato, but more juicy than an Amish Paste.  Delicious every way I ate them.
My cherry tomatoes did well this year too!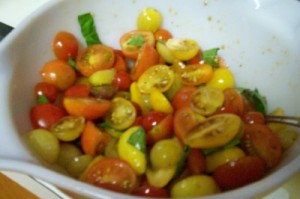 Well, sort of.  I had some serious problems with mutations in some of my plants.  My green cherry threw all kinds of non-tasty clunkers, and I never did get the delicious green cherries that Minnesota had in his garden.  My Sweet Beverly, while delicious, looked a lot like the Yellow Pear tomatoes, instead of the bright orange jewels they were supposed to be.  My Reisentraube did spectacularly well- tasting great right up to the frost.  Black Cherry, as always, was a delicious addition to everything.  My reliable Lemon Drop tomato tantalized my taste buds with their sweetness every time I went out to the garden.  The only one I really did not care for this year was the Snow White Cherry.  My tastebuds must just be strange, because I thought they tasted off to me.  I far prefer the Lemon Drop over the Snow White for flavor.
Another standout I didn't actually grow this year, but I have seed and will grow next year is the Golden Cherokee.  Minnesota grew this one, and it was absolutely delicious.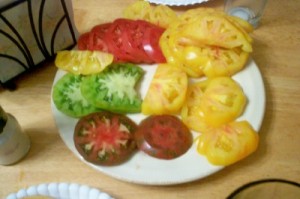 I am anxious to see if my seeds produce the same tomato next year.  The Golden Cherokee is the bright yellow one on this plate. So sweet and full of tomato flavor, this was a winner.  I don't remember which green we had on this plate, but the one below it is the Chocolate Stripes tomato.  Another good one, very pretty to look at.  However, it was really unfair to Chocolate Stripes to have it sitting next to that Golden Cherokee- the flavor really paled in comparison.
There were other standouts too, but I don't have pictures of them.  🙂  Ananas Noire turned out to also be a delicious bi-color tomato, and quite productive, especially late in the season.   The Kamatis Tagalog- a tomato from the Philippines, turned out as delicious as I'd anticipated.  Southern Night was a great early purple tomato.  Not the most flavorful, but it was good enough to grow again. Owen's Purple was a tomato I'd traded for, and I wasn't disappointed.  A deep flavored purple, it produced very large fruits, it just didn't produce in quantity for me.  I plan to grow it next year and give it another chance to really blow me away.  Aunt Ruby's German Green reminded me how delicious it was, and Humph also impressed me as another "green when ripe" tomato.
I did have a few that I won't be growing again, I don't think.  I know things change, but Pink Grapefruit was such a disappointment.  It was a pretty bi-color, but it was really bland taste-wise.  Pilcer Vesey was another blander yellow tomato, and yet it produced some of my largest tomatoes, so I'm not totally sure of it.  I was not a fan of any of the dwarf plants that I grew.  I may try more in the future, and they make a fun winter growing project, but their flavors really paled in comparison to the more traditional tomatoes.
I had one garden bed that really didn't do well this year, and unfortunately, that was where half of my tomatoes were.  Last year I had ONE plant that had some kind of wilt in that garden.  This year, all the plants in that bed were stunted in one way or another.  Next year I will be planting legumes in that patch to try and get the soil corrected, and will move the tomatoes to the next bed over.   So as a result of that, I didn't get to taste many of my favorites.  I had just a few from the Malakite Box and Grace Lahman plants over there.  As I look at that list from that bed… so many I wished I'd had more than just one small taste of.  Next year will be better, and I have such a massive list of new tomatoes to try…  I wish I had more space!