As I write this this morning, we are under a "Winter Storm Warning".  Seriously.  We are expected to get anywhere from 3-12 inches, though I think we're far enough south that it will be closer to 3-6.
I am really, really glad that I was patient with the plant starting this year.  Though I had the itch to start them early- because what if it was an early spring? I waited, and my patience is being rewarded.  Sort of.
The garden is growing, it's just growing in my basement right now.  I think we finally got the set-up the way we like it, and I wanted to share a picture.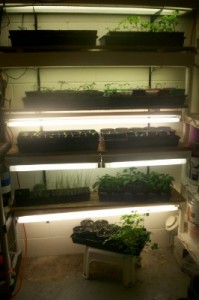 Here it is, five rows of lights, four-feet long.  You can see each shelf will hold two flats, and all the shelves are adjustable, so as the plants grow, I can lift the lights a little farther away from them.  Or, as it is right now, since I have various stages of growth, I can just move the flats around.  So far it looks like all my seedlings are doing well.  I had a horrible mishap with one of the flats a few days ago, yet it looks like the plants will pull through.
In the next day or so I have to actually go through and inventory what is growing down there.   I have no idea how many of each tomato and pepper plant actually germinated and got potted up, since they did so in stages.  I can tell you that my Basil, Thyme, Parsley and Summer Savory are doing well, but as far as specific peppers and tomatoes, that will come.
I do know that I had no Sungold or Brave General tomatoes sprout, and that my Serrano and Bulgarian Carrot Hot Peppers are in plenty.   I have no Hungarian Hot Wax peppers either now that I think of it.
As far as I know, the peas have not sprouted outside yet, but the parsley plant is doing well.  It should tolerate a snowfall okay, as long as it doesn't do a rain/melt/freeze into ice thing.
Spring?  Are you out there somewhere?