I tried being nice.
I tried being patient, thinking that I would lose a few beans here and there ,but that would be okay.  I even put out a little dish with some lettuce and veggie scraps in it.   But the bunnies and I have not seen eye-to eye.
A week or so ago, we finally did some serious planting on top of my tomatoes and peppers.  I gave the kids each their own space and they chose what they wanted to plant.  In addition to the seeds, Abigail added a tomato plant to her patch, and Zander added a peanut plant.   He was really excited about the peanut plant.
I worried about that plant, so the next day I went out and bought a product called "Repels-All".  It stinks like you wouldn't believe, but you spray it around the perimeter of your yard, and it should act like a barrier for the bunnies.  It worked for two days, so I was hopeful, but then I woke to discover the peanut plant missing.  A closer look confirmed that the bunnies had eaten all but a little nub of the plant.  War was declared.
Using items I had on hand, I fashioned a fence around the kids gardens.  I used iron fence posts, the green plastic fencing we used last year, staples, electrical tape and zip ties to construct a fence that I hoped would protect my kids gardens.  The fence went up just in time- their gardens started sprouting, but I swear, it looked like something was nibbling those new bean leaves!  So I used another Repels-All product, this time a granular form and sprinkled it thickly around the perimeter of their gardens.  I sure hope it works.
I also had to spray my plants today with a soap solution.  Bugs! Some kind of bugs- white flies maybe?  They look kind of like mosquitoes- but they have been going to town on my plants, and I'm not letting them have anymore.  When I sprayed the soap on the plants today there were a lot of refugees.  I ordered them to stay away.
The tomato plants are looking good.  After lots of rain, we finally got some sun, and the plants seem a lot happier- all 34 of them.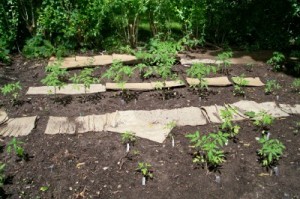 This is something new I added a few weeks ago.  I really didn't want the bunnies to get my butternut squash, so I decided to put them in a pot.  Then I got the idea to use a bar stool that Andy had made for our last house, but we don't need at this house- to place the pot on.  At the base of the stool I've planted pole beans, and my goal is to have a really cool looking pole bean and squash display.  I really like the pop of color the red stool adds.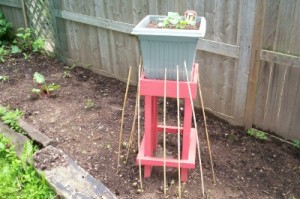 On the far left there you can see my baby rhubarb plant, and behind that is the trellis where my runner beans are planted.  I don't know if I'm going to get runner beans this year.  I keep planting, and they keep being eaten.  I thought I got rid of the bunnies with the spray and granules, but now it looks like something else is eating them.  Maybe the soap spray will take care of them.
There are plenty of sprouts in the kids gardens.  We have broccoli: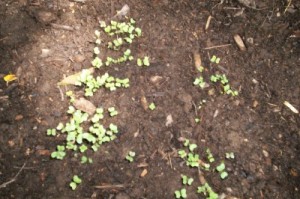 Pumpkin and melons: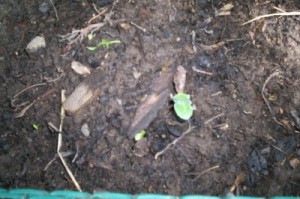 And lots of beans and peas, as well as a few sprouts of corn and cucumbers.
I also have a new patch of kale and chard going, so I'm hopeful those will do well too.
Up next, I've been thinking about all the space I have but am not using yet.  My current plan is to continue amending the soil with compost, tilling it up a few more times, and then I want to try my hand at a fall garden.  Andy's been just itching to design and build me some cold frames, so I'm going to choose a few spaces, and let him have at them. It would be so awesome to be picking lettuce, broccoli and beets into November this year.
Filed under: Uncategorized on June 24th, 2010