I took my camera out to the garden today to snap a few pictures.  We're in a happy place with the garden- I feel so much better now with the fences up around them.  Every day I would go out and dread finding something else missing or decimated- now, I know the critters are not in them, so it's a real pleasure going out to the beds.
This first picture is of cucumber blossoms.  I have quite a few blossoms, and have just learned how to hand pollinate, so I will be keeping an eye out for female blossoms in need of pollination.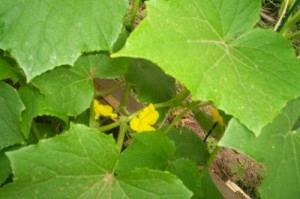 Next, I have a new picture of the mystery pepper.  The peppers are getting quite big, which means they are not the tabasco I first thought they might be.  Nor are they any variety of bird chile- they're simply too big.  If they weren't growing pointed up, I would say hot wax, so I am now thinking that we have a cross-breed here.  Sure would be nice to know what it is though.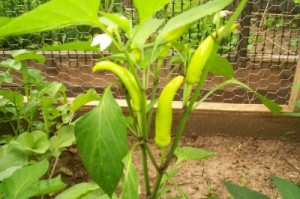 These next peppers are fascinating me.  These are the Bulgarian Carrot Pepper that I got from Seed Saver's Exchange. Woops! So I totally lied there! I just consulted my map and it would appear that these are my Cascabella peppers, not the Bulgarian Carrots, which are on the opposite side of that bed.  I'm confused though, because I grew Cascabellas last year (from the same seed packet!) and they were definitely a round pepper- not a pointy pepper.  The plants themselves are a much lighter yellow-green than any other pepper plants- and the peppers are this pale creamy shade of yellow.  And they are abundant, so I'm very happy and very excited to watch these little guys grow!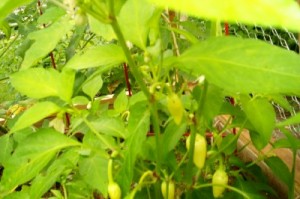 And then we have some tomato action!  First up are a few Roma tomatoes.
Next we have a Cherokee Purple.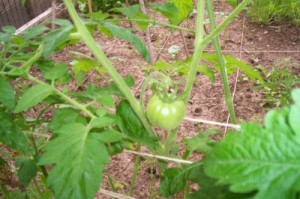 And a Green Zebra.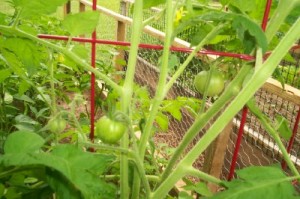 And Purple Russians!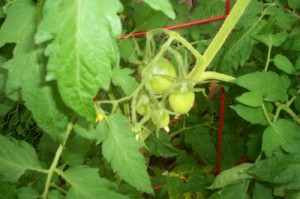 There are quite a few other tomatoes growing, and blossoms as well.  The hot peppers are the most impressive to me-  I don't think I've ever seen so many baby peppers and blossoms on my hot pepper plants before.  They're happy here!  It's going to be a scorcher here the next week, and I expect my tomatoes and peppers will thrive in the heat.  I went out today and fertilized, and a little later on I'll give everything a good watering if it looks like it's not going to rain at all.
All of the beans I replanted have sprouted and are growing great- broccoli has come up, and many of the lettuces have sprouted as well.  The garden grows well, and I'm looking forward to tasting.
Filed under: Square Foot Gardening, Wisconsin Gardening on July 16th, 2011