January Planting Update
My dwarf tomato is doing beautifully.  It's really happy in my window, even though we've had more grey and gloomy days than sunny days.   I really like the pot it's in too- bottom watering is great!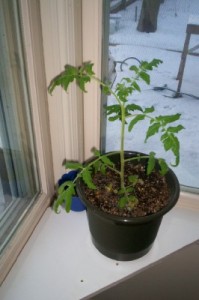 My ghost peppers have finally sprung forth.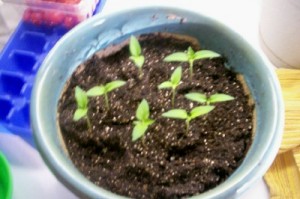 I was so excited when I saw a sprout finally start poking out, only to have it quickly joined by seven others.  I swear, I planted seven seeds, and I have eight peppers.   I have plans to put two in my garden, one plant in a pot, one plant goes to my dad, one plant is to give to a friend… but beyond that… I have three plants that are going to need homes.  I feel like I need to be responsible with these peppers- I don't want to give them to anyone with pets, or with small children who could be curious.  The heat of these ghost peppers can be painful… So we'll see where these end up.
I also have some Thai Basil sprouting up.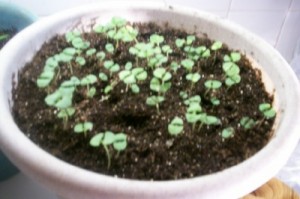 I'm really anxious to start garden planning!  I have all the tomato seed I'm going to get.  I think.  I still have two seed orders to put in, as I have plans to grow a lot of beans and lettuce this year.  I have at least six different varieties of romaine that I want to try, as romaine is our favorite lettuce.  I can't tell you how many kinds of beans I have- mostly pole beans, but some bush beans.
And eggplant.  I've remembered that I want a few eggplants this year, so I have a few new, small varieties to start.
I'm excited!  I didn't even come close to maximizing the potential of my garden this past year.  I'll be able to harvest from my rhubarb plant as soon as it produces, and I'm excited to see what the blackberries, raspberries and asparagus do.   I definitely have some dirt amending to do in the raised beds, so that will need some attention first thing.
It's going to be a very good, very productive year.  I'll be going through seeds in the next week or so here.  It will be something to do while we wait for warm weather.