Constant Changes
Today I really, really wanted to go over to the community plot and do some damage with the weed removal over there.  However, after two days of working over there, my hands and forearms are feeling sore and tired, and with an upcoming conference weekend where I need my hands and arms for drumming… I have to lay off the hard garden prep until Monday.
In the meantime, I found a few things to do today.  🙂
After my brassica and celery plants spent the night outside, I decided it was time to get them in the garden.  I don't have a ton of plants that made it to this stage, but I do have 3 cauliflower, 2 cabbages, 3 broccoli and 1 collards plant in the dirt.  I also sprinkled some lacinato kale seeds in there as well.  Here's a close up of that bed.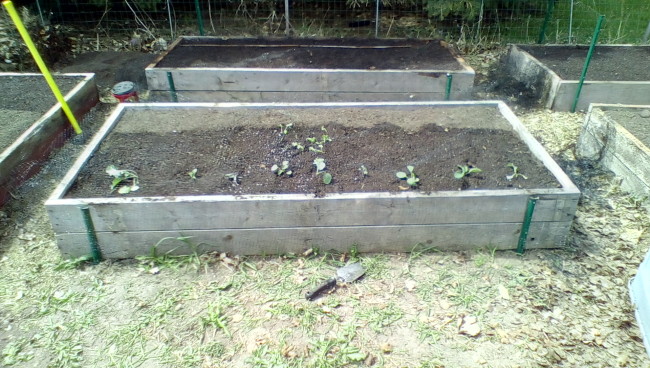 The brassicas are along the front, and the celery ended up smack dab in the middle.  The radish seeds are to the right of the celery, the scallions to the left.  The dry row at that back of this bed is being saved for the cucumbers.
This morning I also decided to sow carrot seeds.  Overnight lows are going up and up, so I thought it was okay to do so now.  I planted seven varieties of carrot this year.  I have Cosmic Purple, Amarillo, Dragon, Kuroda, Imperator, Asita Black and Nantes.  The Asita Black is the darkest purple carrot I have ever seen.  I found it at Baker Creek, and the seed packet was over packed due to low germination.  I hope I get to sample a few of those!
At one point when I walked outside I spied two baby bunnies who appeared to have made a home underneath our deck.  Since my pepper patch is going to be in the bed right below the deck, I decided to spend some time adding extra fencing to keep the bunnies away from my peppers.
Overall, I got a few things done today.  I also managed to snap a closer picture of the home garden.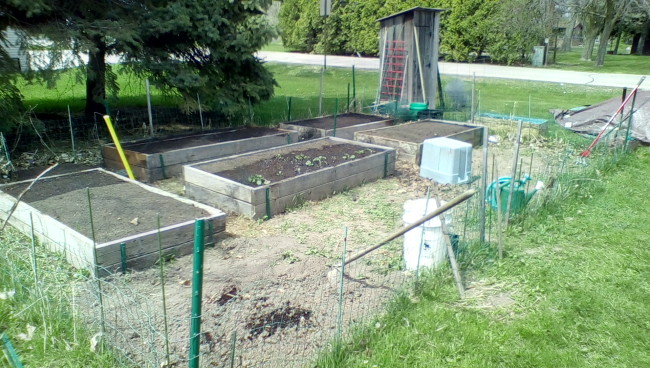 One day at a time.  🙂