Just a quick update today.  My tomatoes are sprouting like mad and making me a very happy tomato mommy.  Just one week old, and I am very close to 100% germination on all the maters.  I'm still waiting on one green zebra, one German red strawberry, one golden monarch and one other one I'm forgetting.  I do have one interesting specimen- one of the heirlooms, where I'd planted three seeds sent up four sprouts.  Hmm.
I also spent time this weekend potting up some other seedlings, because they just were growing like gangbusters.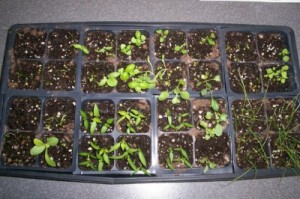 Plus, I thought that it was about time to get the seedlings out of the greenhouse, now that they had some true leaves going.  So now they are in their own comfy pots, sitting in the sunshine.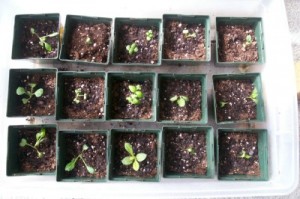 It seems like every day I'm finding something new to discover.  I expect I'll be potting up a few more sprouts by the end of the week here.  Now it just needs to get warm outside…
Filed under: Uncategorized on March 30th, 2009