I realize the ultimate irony is that I am doing this particular post on this particular blog.  I started this blog years ago when it was called "Menu Planning 101" to try and help me stay focused on my weekly meal planning, and maybe help others out as well.   Menu planning has fallen out of fancy for me, and while I keep trying to get it going again, it's just not sticking as much as I want it to.  Our busy weekly schedules make planning more difficult for me, and then adhering to the plan is equally difficult.
So I picked up a few new tools this week to help me in the planning process as we head into the new year.  I'm really hoping that they will help me get in a groove and stay there.  These things that I've picked up I purchased for a steal at our Lang store at it's end-of-the-season-closing-the-doors-sale.  You can still get the items online as well, and perhaps your little Lang kiosk in your local mall has them as well.
The first thing I picked up as I wandered the store was this weekly planner notepad.  In fact, I picked up two of them.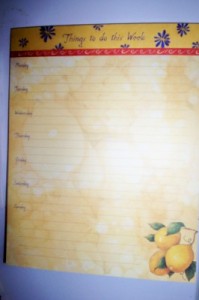 It may not seem like much, but I think it's genius.  First of all, it's huge.  They're nearly the size of a sheet of paper, and there is plenty of room to write on the generously spaced lines.  Many planners focus on Monday through Friday and then squish the weekend together.  This gives each day it's own equitable space.  It's also got a massive magnet on the back and sticks to my fridge very nicely.  I've considered attaching a pencil to a second magnet and hanging it nearby, but I'm thinking I will probably take it down each week to write on.  Having a notepad already labeled for each day of the week to do my menu planning on could be just the thing to keep me planning.  And the fact that this notepad is glaring at me from the side of the fridge while I work in the kitchen should help as well.  I think these Jumbo Weekly Planners are a really good idea.
The other items that I picked up to help me get more organized are these Recipe Portfolios.   I picked up two of them in very different designs: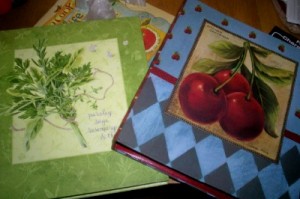 They are glorified binders, already set up for organizing your recipes.   I actually wasn't sure what I was going to do with them at first, but the more I thought on it, the more I came up with a plan.   I have hundreds of recipes that I've pulled out of magazines or printed off from online or elsewhere on my computer.  Sometimes I actually sort them into a binder I have set up for recipes, but most often they just get slid into one basket or another.  I'm sure if I went through each spot where I tend to tuck things, I'd have at least 30 recipes floating around.   My binder was getting very full, and what I decided to do was divide my recipes.
I took the cherry portfolio and labeled it "Sweet".  Then I took the tabs inside that were already labeled things like main dish, soup, dessert, etc., and covered them up with a new label.  The ones I decided on were Cookies, Bars& Brownies, Cakes, Pies, Candy, and Preserves and Other Stuff.   Then all my sweet recipes were sorted into this portfolio.  The dividers in this one have pockets, so those small, random recipes that need to be re-written or typed up just slid into the pockets for now.
The other binder I labeled "Savory" and for the most part, I left the dividers in that one intact.  The only one I changed was the tab labeled "Desserts" and that one I changed to "Breads".  Then I went through and sorted all my savory recipes- the main dishes, soups, salads, etc., into that portfolio.  Here you can see the portfolios standing on end, labeled for all the world to see: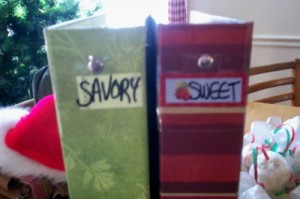 I think this will help me with my meal planning as well, and here's why.  When I'm going to be meal planning, and want to use my recipe collection, I'll know that I need to grab the savory binder.  I won't have this massive all-purpose binder to flip through, and thus get distracted by thoughts of cookies and candies or cake and pie and then never get around to menu planning.    There's also some tools within the portfolios that I hope I'll end up putting to use.
There is a coupon holder to hold coupons in each binder- that could be handy for weekly menu planning, as I sit down and plan what I need to purchase each week and from which store.   I also need to add a section for recipes to try yet, and then only the tried and true recipes will be filled away into the binder- so I'm not filling up the prime real estate with things that I may never even get around to cooking.
It's a work in progress, but hopefully, as I look to getting more organized for 2011, these tools will help me stay focused and really get back to menu planning.  Our health and our budget will thank me for it.