I've been thinking a lot about what to do with this blog.  Every once in a while something totally random that won't fit on my other blogs comes up, and I think I should post it here, and then I don't.  And the blog just sits, and is boring.
It's time to stop being boring, and it's time to revitalize the blogs that have lain dormant for far too long.
A Piece Of Home is going to start getting updated far more frequently, because this is where you're going to see my home.  I'm going to share the kid stuff here- since I've been so focused on food over at Tummy Treasure, the pictures of the kids seem more appropriate elsewhere- this is that place.
I will also be using this blog to share local reviews- businesses (not food related) that go above and beyond, or that we like to support.  I'll share about different non-food products I use as well- there's nothing like finding a good recommendation online for something I'm considering using.
So as a teaser today of the things to come, here are a few pictures of the little people I love best- Abigail and Zander.  These pictures were taken in April at one of our dance competitions.  The competition itself was at the Kalahari Resort in Wisconsin Dells, and there were statues of animals all over the place.  Abigail currently has a fondness for zebras and zebra stripes, so we took a few pictures of her with her friends.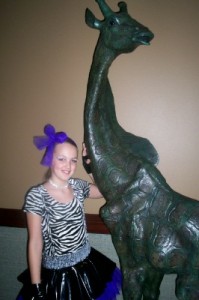 In these two pictures, she's wearing her tap costume for the season.  They danced to the song "Bad Case Of Loving You".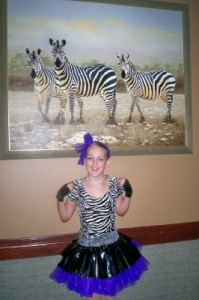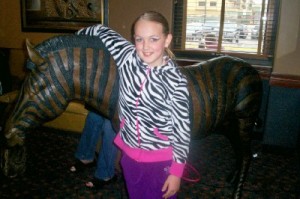 At least I was a good mom and got at least one picture with Zander in it- it wasn't all just about Abigail!